Leaving behind a mountain of fog on the Pacific coast and heading into Guadalupe Valley on Highway 3-Ruta Del Vino the sun breaks free, lighting up the lush green hillsides with this year's grape production. It is always fun to explore the region in search of a new winery. There are over 160 registered wineries and we know we will never be able to visit them all, but we will try! Bodegas Cieli catches the attention because of its impressive grape colored entrance without a building in sight. This peaks the curiosity, wondering where the winery is. Taking it slow, the dirt road winds around a hill and begins to climb, coming upon a grove of 75 year old carob trees. Heavy brown seed pods hang in the branches, slightly sweet, the carob is known worldwide as a sweetener or substitute for chocolate.
The old homestead comes into view. It is a humble structure from days gone by. The adobe walls are 60 years old and were saved to create the tasting room, restaurant and rustic gift shop with a new roof overhead. There is an abundance of covered patio so we can sit outside and enjoy the view of the valley and natural granite boulder hills. Luis, the chef and waiter for the day says that owner and winemaker R.P. McCabe, also known as Cieli, is usually here and we just missed him. Cieli can be called a Renaissance man. He is a person with many talents and areas of knowledge. The name Cieli goes back to early Tuscany. His heritage influenced his appreciation of Italian food and the restaurant menu includes Italian dishes using his grandmother's recipes. For twenty years he was owner and chef of an Italian restaurant, before moving to Baja. Add to all this, Cieli is a published author many times over.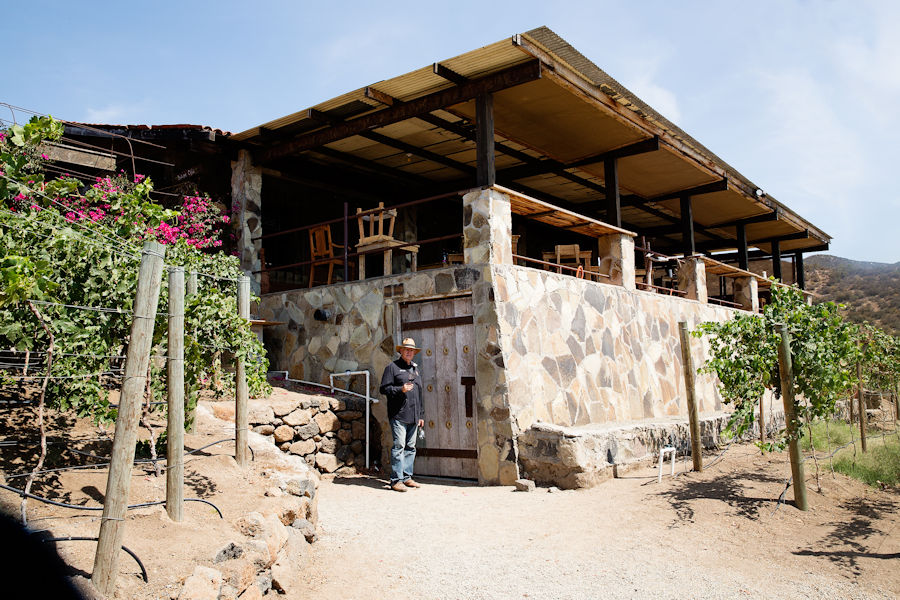 We order the homemade sausage and potato salad and Luis brings a 2015 Blanc di Grenache. It is full of lush citrus and ripe peach with a nice acid balance that gives it life. We are told that this 100% red Grenache grape is picked just before it's fully ripe, giving it a unique Cieli touch. As the scrumptious lunch is served, we are delighted with the generous portions. The sausage is made by hand from grandmother's recipe and is split then grilled perfectly, accompanied by a towering mound of potato salad. Carlos, the friendly camp dog, lays quietly, looking up with warm hopeful eyes. The breeze moves through the lovely patio setting and all is right with the world. We are told that Cieli has no desire to produce wine beyond 1,000 cases a year; the reason being that he is here for the "art" of winemaking, not mass production. Luis pours a 2016 Red Blend that is surprisingly complex. Its name Sognato di Amarone, Italian for "A Dream of Amarone." Amarone is a wine style that is known for its location east of Venice at the base of the Swiss Alps. What is significant about this style of wine is the grapes are dried for several weeks after harvesting and before they are fermented. Ceili used this protocol for his Baja blend. It is delicious, robust, spicy and while it is not the grapes of the Amarone region, one can dream.
We talk a bit about Cieli's, aka R.P. McCabe, books. A lover of Baja, he was influenced by John Steinbeck's works, Cieli writes that he was given an important message to have a "belief that who I am as a man…a writer…is enough." The titles of the books call out to be read, A Salamander at Bell Station, Thick Fog in Pacheco Pass, Betrayed. To go along with our perusing through the author's works, Luis pours a delightful, slightly sweet and chilled Docetto 2016 with twelve months in the barrel. This would be a fun party wine and a good way to introduce people to red wines. The Dolocezza 2016 with 12 months in the barrel is a "secret" blend of five varietals. The notes seems to move from one surprise to another, as if visiting each varietal briefly, before moving on to the finish with its hint of oak. As we finish lunch and the generous tastings, we check in with Amazon for Ceili's books and find this, "Author R.P. McCabe, with his debut novel Betrayed still garnering strong reviews and attention, offers his next novel, Thick Fog In Pacheco Pass. This is another edge-of-your-seat "whodunit" that will keep you guessing to the very end." R.P. McCabe follows this lineup with soon to be released, Slaughtered.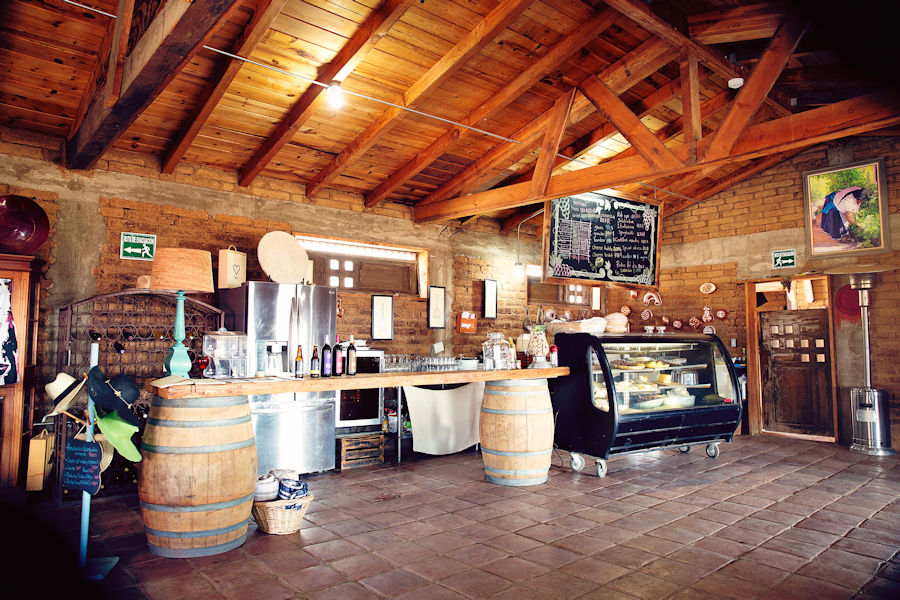 Bodegas Cieli is the best of both worlds. The winery is also producing six craft beers on tap. The beers are known for their "personality" and Cieli designs the recipes first for their drinkability. The names are fun; Hot Blonde is for the newcomers with a soft hop profile. Rosarito Red is an Irish red, rich with smooth drinkability. Cieli has written that it is one of his best sellers and has a "distinctly Irish Pub flare in its finish." One title, just a little bawdy, but with a tender touch is Belle's 8 Teats – American IPA. The story reads, "The name for this beer was inspired by a beautiful little pup who was tossed from a car at the front gate of our brewery. Once Bella was nursed back to health, I loved rolling her over on her back and rubbing her sweet little tummy. She had 8 soft little teats. The beer that carries her name is anything but soft. This is our most robust IPA." For another favorite there is Carlitos' Squirrel Chaser, Oatmeal Stout. "The American Stout is black, full of rich espresso and chocolate flavors with a beautiful cappuccino-colored head standing in the glass." You can order one of your favorites in a bomber or a growler size to take home.
Little Carlos lays in the warm afternoon sunshine, gazing out over the old gnarled carob trees and we wonder what he might be thinking about. Maybe he is just musing on how lucky he is to live here. Or maybe he is having a doggie day dream about the 22 oz rib eye steaks in the cold case, remembering how it smells when it is grilled. It makes his mouth water. Sometimes visitors leave a little something just for him. We are told the beef is wild range from Hermosillo. A whole rib is ordered and Cieli hand cuts it right here. To finish off a fabulous day in the Guadalupe Valley, just imagine cutting into huge tender rib eye with a plentiful side of grandmother's special spaghetti smothered in old world marinara sauce. In tribute to a wonderful day, we raise a glass of Sognato di Amarone where the dreams of Tuscany and the Baja California wine country meet.
Interested in trying Bodegas Cieli's wines in the U.S.? Visit Bodegas Cieli's online wine room at Patrick Neri Selections to buy online now!
Article by Martina
Photography by Cintia Soto