Take a little trip on the old Mission road through La Misión, where a crumbling adobe wall still remains. The free road heads out to the Guadalupe Valley and El Porvenir. A blue sign points to the turnoff onto a dirt road that was once a river bottom. The lane is lined with wild Tamarisk shrubs, lacy green with soft dusty pink. Now, you are in for a wild ride up, around, down and up again. Just when you think you're lost, there will be a small sign pointing past the rooster farm. The sky is so blue. Off to the west, you can see the massive mound of coastal clouds which form this time of year as the valley heats up. There will be a Y in the road with a small sign pointing to the right and from here you will see strange structures on top of the hill. A little more wild-toad's ride and you have found your way to one of the most unique winery structures in the valley.
Vena Cava is well known for its architects, Alejandro D'Acosta and Claudia Turrent of Ensenada. A visit here is more than a wine tasting experience. It will include this very memorable structure made from nearly all reuse materials, but with an extremely modern interior. The husband and wife team both have a passion for reclaimed materials and have secured a niche designing upscale wineries and other buildings. If you see anything that is wonderfully unconventional, it will most likely be their work. Walking inside the vaulted ceilings overhead are the salvaged boats from the Ensenada port of call. In this way, they are pioneers committed to minimizing their personal impact on the Earth and some say that they have "recycling down to a science."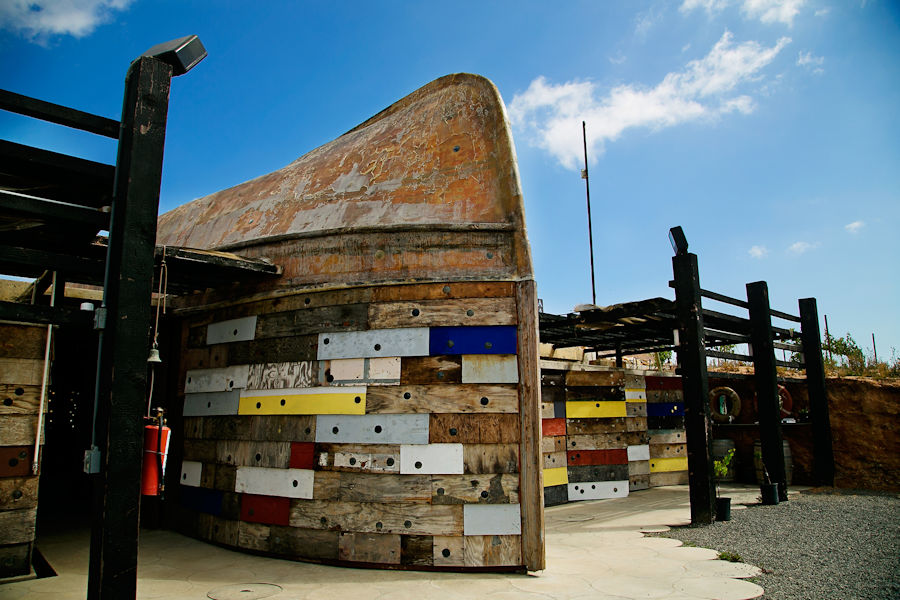 The Guadalupe Valley was once roamed by the Kumiai Indians who still live near here. The history of the valley is as rich as the land. First the padres brought with them from Spain grapes for their sacramental wine and some of these 200 year old vines still flourish. Farmers came with a few common varietals to sell to a handful of wine makers at that time. Today, there is an explosion of 160 registered wine producers and nearly 300 different varietals are planted in three main areas of Baja.
Valeria Valdez invites us in for a wine tasting. On one wall there is a gallery of pictures showing the step by step construction of the structure and how the boats were used as the ceilings. The production room is as small as Phil Gregory, owner and winemaker, who is committed to quality rather than quantity. It can be said he likes to break the rules and experiment, which is one feature of Baja wines, unlike the French wines governed by their long and rich history. Phil studied under Hugo d'Acosta, a pioneer of Mexican winemaking and creator of La Escuelita, the little but famous wine school in El Porvenir. Phil was once a sailor, thus the nautical theme throughout and why he was attracted to the d'Acosta architects. The tasting room is a delight. It is a long narrow room created by the boat's shape used as the ceiling. A long glass bar runs down the center. We are surrounded by thick walls that have been carved out from the hillside and oak barrels line the walls, resting, yet very much alive with the aging wine inside.
Valeria begins to introduce the 5 tastings starting with a 2017 white blend of 80% Sauvignon Blanc with Chenin Blanc and a touch of Chardonnay. It does not pass through the oak barrel. The labels are cute, like vintage tickets printed for the Titanic. We taste citrus, green apple and the minerals are nicely balanced. Next in line is the 2017 Grenache and Syrah blend. There is a touch of creaminess, even though it is not held in the barrel. On to the 100% "natural" Grenache 2017. Valeria comments that Phil is "very respectful" of his wines. "The grapes are grown in our own vineyard organically, without the use of pesticides or artificial fertilizers." She says Phil adds no sulfites and follows what he calls "new trends." This Grenache is "Atypical," in fact, she laughs and says that Phil calls it his "funky wine," as it frees itself from the normal way of making Grenache.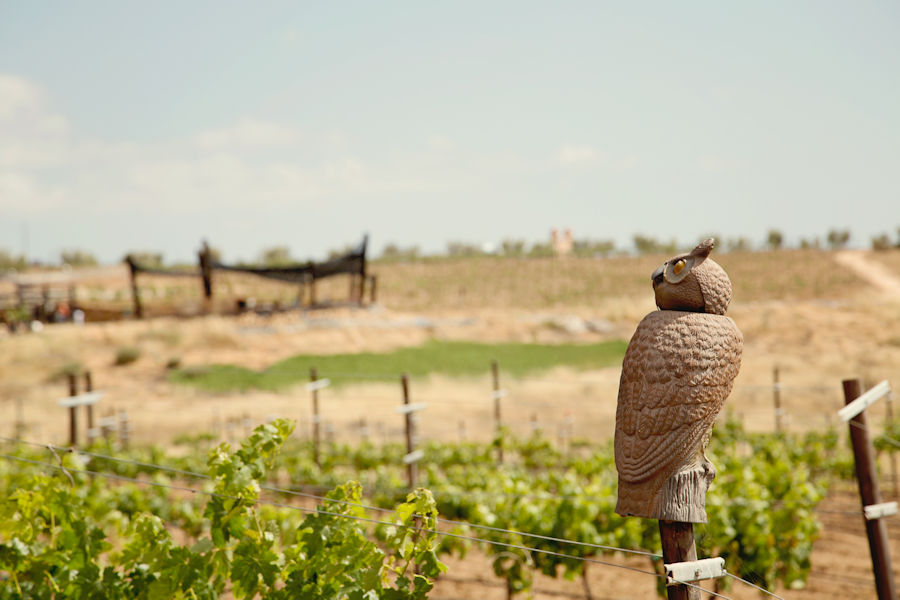 A 100% Tempranillo 2016 is soft in balance with 13 months in French and American oak. Valeria states that putting the grape into the barrel to age "changes it into another world altogether." We pick up the peppery notes from the French oak and the smooth and friendly quality form the American oak. Valeria laughs, "Everything is a blend here, even me! Phil loves to blend; even the 100% wines are a blend, the 100% Tempranillo is a blend of Tempranillo grapes harvested from different regions of Baja. And for the finale, Valeria grins and says, "This is the BIG BLEND, 2016 from five different grapes. It has 13 months in both French and American oak." It is a lovely dark and smoky experience with a hint of caramel. In finishing up, Valeria suggested, "If you want to understand wine tasting, watch the movie, Somm, because it gives you a deep appreciation for what it takes to fully understand the wine you are drinking." Valeria is right, this documentary is riveting and sheds light on the extraordinary commitment people must make in order to become a Master Sommelier.
Before leaving, treat yourself to a gourmet Mexican style treat from the food truck, "Troika," a Russian word for food cart. Artisan beer and Vena Cava wines are served. Whatever you do, don't hurry away from the pond where cattails grow from the water and a panga floats in the middle. Time slips away with the breeze, while white ducks and small turtles share the same water. Some may scoff at the idea that ducks have something to teach us. Yet, if we put away the cell phone and watch, the message is clear. White duck slips into the water, swimming leisurely here and there, as if it had all the time in the world. He hops out on a little wooden platform, ruffling his feathers to dry. He settles and soon falls asleep in the warm afternoon sunshine. When he wakes, he slips into the water again, making cheerful duck sounds of contentment. White duck's life makes the pond more beautiful.
Interested in trying Vena Cava's wines in the U.S.? Visit Vena Cava's online wine room at Patrick Neri Selections to buy online now!
Article by Martina
Photography by Cintia Soto