If you want the full experience of winemaking and understand what it truly takes to fill your glass with an astounding red wine, you need to visit a small family owned winery. Talk with those that tend the sleeping barrels, those who know how to select the grapes, those who know the soil and fickle weather. They know the heat during the harvest, and have the patience to wait for perfection. Here at Vinícola Retorno, you will have the opportunity to gain a full appreciation from this family owned winery.
Finding Vinícola Retorno is easy. Take Highway #1 south, just before Ensenada, turn into the foothills on Ruta del Vino, #3. A short drive on four lanes makes its way to the small town of San Antonio del las Minas and the only stoplight. Turn right and begin a short ascent, watching for the blue sign on your right. Now the adventure begins as you find yourself in a residential area and facing a dirt road up a small hill. Just before the Retorno's blue sign, turn left and then a right into what first appears as a residence with a food truck facing the road. It is a humble first impression, without grand rock arches and metal and glass construction of many of the newer wineries. But make no mistake, a true winetasting experience is waiting.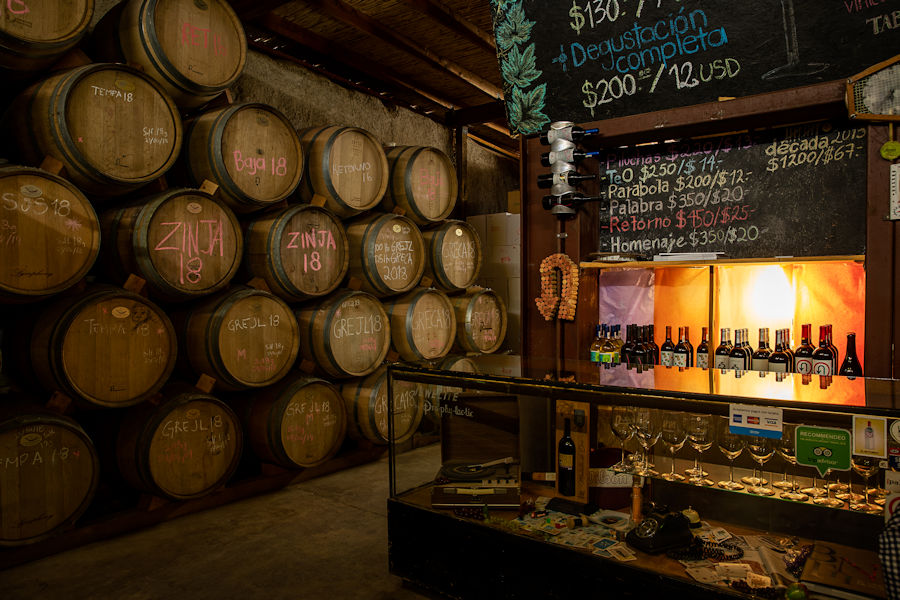 As I step out of the car, Carlota, greets me. She has limpid brown eyes set in her fuzzy Labrador face and she escorts me as I make my way through a narrow opening of potted plants and blackberries ripening. It feels like popping out of an Alice in Wonderland scene and dropping down into a small brick patio. There are no fancy chairs or exotic lighting. It is very quiet. The tasting area is part of the production area and is an important part of understanding wine making. The cava, hand built from adobe is above ground. Inside barrels are stacked and a young man and woman are busy bottling. A wooden hand-press is to one side and a small stainless steel fermentation tank is near. Gerardo greets me first in Spanish and then in perfect English. As he seats me outside, I mention the unpretentious first impression. Quick to smile, he says, "We watch people drive in and sit for a while, then drive away. Sadly, they didn't give the wine the opportunity."
For a small winery, Vinícola Retorno has an impressive lineup of wines, seven in all. One of the three packages they have offers all seven. The first in the line-up is a 2017 100% Chenin Blanc with 8 months in new American and French oak. Gerardo begins to tell the history of the winemaker, Adrián García. Gerardo laughs and says, "Raised in Mexico City, Adrian was a city boy. When he turned on the water faucet he didn't know where the water came from or where it went." When he made his way to Baja, he had winemaking in mind and there was much to learn. He started small, as many family winemakers do and taught at the university in Ensenada as he learned his way. Gerardo moves on to pouring "Piluchas" with its humorous story. A 2017 blend of Grenache, Barbera, Tempranillo and Zinfandel using a French method of leaving the skins on the grapes in an artful way. What does the name means? Gerardo grins and says, "When Adrián was a boy he liked to fool around a lot and sometimes he had accidents and he would always exclaim, "Piluchas!" As it turns out it is an Argentinian word, meaning naked lady." The label of this wine is all in black, with one hot pint curvy line. It was Adrian's sense of humor as this blend is also different according to the grapes and sometimes the "accidents" create a wonderful wine.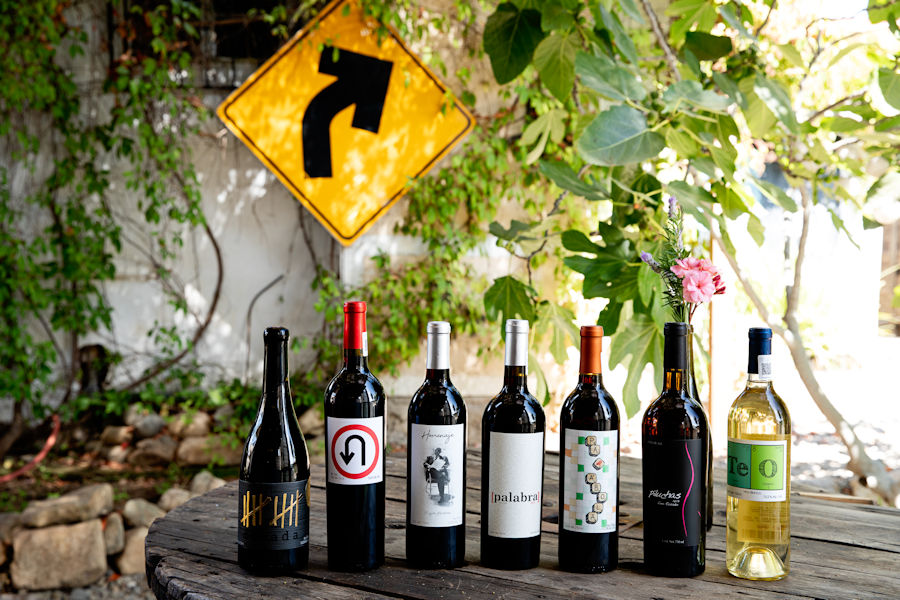 Next, Pa Abola is an easy to drink blend of Barbera and Tempranillo with 6 months in American and French oak. This 2017 has a year in the bottle before it was released. Moving into the more complex wines, these are held longer in the barrel and what Gerardo calls, "Money on hold." Just imagine waiting one to three years for your paycheck. The 2015 blend of Cab Franc, Cabernet Sauvignon and Merlot has 12 months in American and French oak and a number of years in the bottle. It is a French style wine called Mezcla Bordalega and rich in ruby color with ripe fruit. A lovely balance of tannins and acidity.
As Gerardo pours the next wine, he calls it the "favorite" of the Retorno wines. It carries the name of the winery. This signature wine is a blend of 90% Grenache and a hint of Syrah, with 2 years in the barrel and one year in the bottle. "Adrian has quite a sense of humor and this name is poetic in a way. Coming from the city, he knew nothing about the land, and he saw this as his return to his origins. For him it was learning all the things necessary, like where does the water come from. The bouquet is delightful, hint of spicy with red fruit and soft on the palate. It is easy to see why it is their best seller.
Gerardo's passion for the life of a winemaker is contagious and he readily admits, "Winemaking is all about passion." It is evident very good wines are being produced in this unassuming hideaway. Carlota comes by to check on us and lays down to take an afternoon nap. Just when you think the wine can't get any better, the 2016 Palabra captures the attention, with its blend of Zinfandel and Barbera. This has been held one year in three different oaks, American, Hungarian and American. The ripe berry fills the mouth with a wonderful complexity. For the grand finale of this long afternoon of immersion in the art of winemaking, Gerardo opens Década, which is not offered as a regular tasting. But the warm hospitality and the desire to share the reserve put me on the receiving end of a special surprise. Década, celebrates Retorno's tenth anniversary. The bottle is a dramatic presentation of their 2013 100% Nebbiolo with 36 months in the barrel. Its black bottle and label creates drama with ten thick golden hash marks telling the story. The bouquet pulls me in and forces me to linger before the first sip. It is a wine that speaks in the language of love and take you somewhere inward to dark warm forests, where the mystery of the grape is revealed.
With many thanks, I take my leave and Carlota escorts me to the parking lot. I think of those visitors that drove away and "didn't give the wine the opportunity." Here is a place to come and watch all the phases of production, from harvest to bottling and deepen the appreciation of the commitment, passion and the patients that goes into each extraordinary bottle of Vinícola Retorno.
Article by Martina
Photography by Cintia Soto