Editor's note: This article was researched and written pre-Covid. However, we have learned that most safety protocols have been adopted by the Mexican government for distancing in public places. The smaller wineries off of the main roads are more likely to offer the quiet atmosphere and open spaces once tourism has opened back up. Enjoy!
A dirt road beckons up a steep hill and past Jurassic Park. Leaving the fierce looking T-Rex behind, the adventure continues to the crest of the hill. Pulling into Vinos Pijoan is like leaving one world and entering into another. Parking is sheltered in the shadows of silver olive trees and a sign points to the wine tasting area. Ring the brass bell hanging there to announce your arrival. Don't hesitate to enter the first door that is the fermentation room, unless it is harvest time when everyone is working at top speed to process the grapes. Walking past the stainless-steel tanks and hand presses, continue on, stepping through a natural rock portal and into a charming setting. Earthen terraces, swept clean, are lined with natural rock and native plants. Lovely pine trees and graceful pepper trees sway with the breeze, creating a wind song joined by the notes of a chime and hummingbirds look for the first spring blossoms.
Pau Pijoan, owner and winemaker of Spanish heritage, was once a veterinarian. So, visitors can expect to be greeted by a number of happy rescue dogs. Like many of the smaller and newer boutique wineries that have opened in early 2000, Pau started making wine as a hobby. Pau learned winemaking from the respected D'Acosta and soon saw that he was naturally gifted. The slogan of the winery production is that they are "honest." It is the way the whole family feels about being in relationship with nature. No harsh chemicals are used in growing the grapes. Owls and snakes take care of rodents and even the dogs deter the small ground creatures. Lenora, Pau's wife and his daughter Paula are an important part of the team as the winery expands its productions in Mexico and into the United States.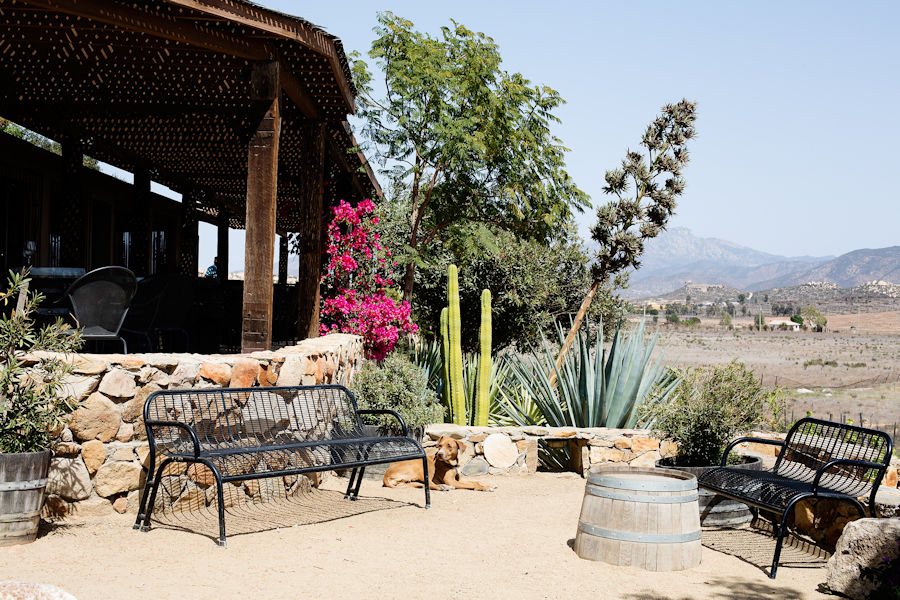 A covered patio allows for winetasting with a view of the Sierra Blanca or there is an option to sit inside at the small bar. Today, Arturo will present the Pijoan wines and guide us through the tasting. Arturo is a winemaker in his own right and has traveled to Chile and the US to expand his knowledge. The first wine is Silvana, named after Pau's youngest daughter and is a 2017 white wine that does not pass through the barrel. With a wonderful fruity aroma, it is fresh and a great selection for casual outings and seafood. Arturo introduces the 2016 Paula, the older daughter, a young red wine, a blend of Zinfandel, Merlot and Syrah and can be nicely chilled. It has 5 months in the barrel, which produces a wine very light in tannins and is a good introduction to red wine drinking. Paula works closely with her parents on the ranch. She is an Oceanographer and is environmentally savvy. Paula brings earth friendly practices to the landscaping which is done with native plants and is working on labeling each in order to educate visitors. As Arturo pours a 2012 Domenic, named for Pau's son, the blend of Syrah, Grenache and Cariñean is more complex and bold. It has 12 months in the barrel. This is a good time for a plate of fresh bread, homemade marmalades and local cheeses. If it seems it can't get any better, a 2011 zinfandel is poured. It is called Mare, meaning mother in the Catalan language of Spain. The grapes are purchased from original Russian vineyards. A wise man, Pau created Leonora for his lovely and supportive wife. It is a complex, French Bordeaux style wine blending Cabernet, Syrah and Merlot with 18 months in the barrel. Delicious and smooth, it is a treat of flavors; spice, plum, berry with a smoky note and soft tannins. All winemakers have to have a sense of humor and this is seen in Pau's line of "Mid-life Crisis" wines with the label, Convertible, sporting the shiny fins of a vintage Cadillac. He chose to buy the vineyard and not the car.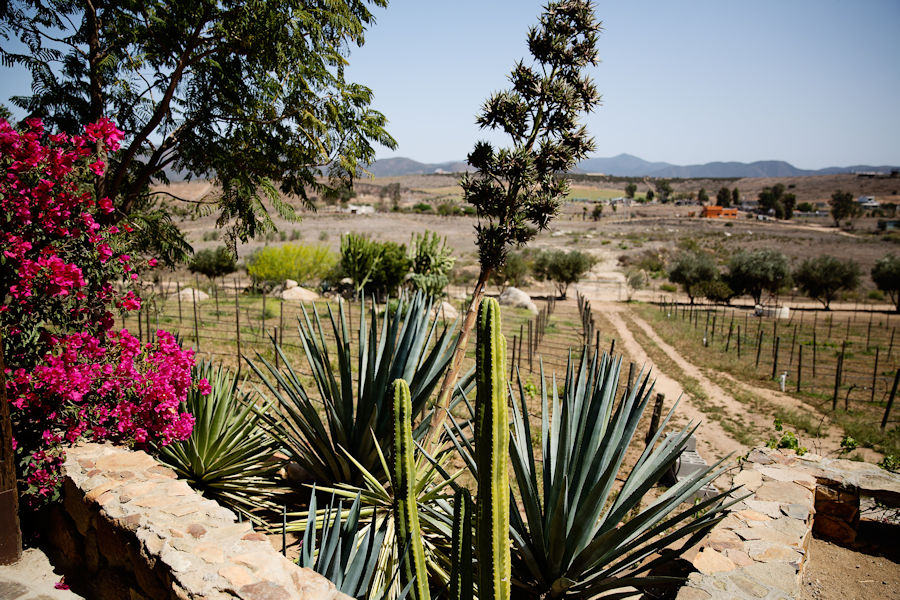 Pau steps into the tasting room. His eyes sparkle and his presence fills the room. He is a man on a mission and he extends an invitation to journey into the cava. We venture deep into the earth itself, stepping out on a granite boulder platform. A second huge boulder was allowed to remain and is an extraordinary presence. Pau will be attending each barrel with an organic process using egg white, which will settle out strong oaky tannins. Each barrel is a living thing and is devotedly attended to throughout the many months during aging, until just the right time to bottle. This is where winemakers have to be courageous and patient at the same time as they must make their decision when to bottle. A moment too soon or a moment too late can be critical in making a good wine into something extraordinary.
Pijoan has a B & B available. This fully furnished home was once the family dwelling. What a treat to step out in the morning with a steaming cup of coffee and take in the sunrise over the eastern mountains, breathe in the fresh air and listen to the silence. A weekend in the Valle de Guadalupe is by far the best stress reducer on the planet. The Pijoan family will take good care of you and it won't be easy to leave what is actually "real life" here in Baja California wine country.
Article by Martina
Photography by Cintia Soto