The weather is turning hot heading into the summer months and the vines are heavy with ripening fruit. The vines are alive and actively reaching for the sun, sending out bright green tendrils. Pulling in off Highway 3, just past the stoplight in San Antonio de Las Minas, the hacienda style tasting room of Vina de Liceaga is an easy destination. Beyond the tasting room is a park-like setting that invites visitors to walk into the shade of an old forest of coastal live oaks, some having one hundred years. A flash of an idea arises instantly to plan a picnic wrapped around very good wines from the Liceaga cellars. Patches of shade and sunlight dance over the ground, certainly a beautiful outdoor setting for weddings and parties. Quickly, it becomes apparent that there is more than meets a casual eye. Wine tasting is more a journey than a destination. Sharing wine can lead us into the history and heart of wine making, while meeting other passionate wine lovers.
Solid wooden doors with heavy metal fixtures appear to be from an old Spanish fortress. The few stairs down into the spacious room are lined with gigantic handmade candles. The welcome by Jesus is warm and authentic. He says he is visiting from mainland Mexico and has been sent here to learn about wine making. Mexico now focuses on the growing success of Baja California, sending students to study here. Shortly, Juan, "the wine guy," takes the lead with the first tasting, weaving into it the history and success of the Liceaga winery.
Right from the start Juan began to infuse the wine with the family story. The tasting begins with a young Rosa, La Rosa de Liceaga. Its label, with a full rose in bloom, was from an original 1914 painting done by grandfather Liceaga. It honors him because of "His love of developing wine." La Rosa is a unique blend of Merlot, Grenache and Syrah. The color is delightful, the aroma of peach, apricot and grapefruit opens like a spring day. It is not a complex wine, but intrigues with its layering. What makes this outstanding is the use of the Merlot in the blend.
Next Juan pours what he considers the youngest red, Sophia 2016, a blend of 80% Merlot and 20% Cabernet Sauvignon and aged in American oak. This was truly delightful, soft and easy with a touch of natural sweetness. It's a beautiful garnet glittered with a fringe of soft pink. It is very easy to drink and enjoy. Juan begins to shares a sad story. Don Eduardo Liceaga died after a prolonged illness a number of years ago. He left his wife, Myrna, with deep grief and a huge decision to continue in her husband's footsteps. Today, she is held in very high esteem by all who have seen her create Liceaga into what it is today.
Just then Myrna Liceaga sweeps into the room. She is chatting excitedly with the staff and wrapping up several bottles of wine. Juan introduces her and her greeting is warm and very sincere. She expressed pleasure that the Liceaga story would be done in English to help people understand the history and her husband's legacy. Her silky voice held the fire of love and passion for her life. Mryna suggested that Juan give a tour to the private cellar in her residence after finishing the last two tastings. Juan poured the 2015 Melvin, 6 months in the barrel and 100% Cabernet Sauvignon. Melvin had a spicy bouquet, with plum and pepper notes. It was deep and full, with black cherry and prune flavors. Juan said these four wine tasting was set up to begin with the youngest wine following through to those held in the barrel the longest. In this way, it is easier to appreciate what aging can do for a wine. The last was the 2014 Reserve, called 43 & 60, having 20 months in French oak barrel. The label is significant as it represents the couple's birth years and "the fusion of their love story and wine made with this love." The Reserve is 50% Cabernet, 25% Merlot, 25% Syrah. Ah, the tasting was delightful with its smoky aroma of the barrel and notes of liquorish and black cherry.
With a great show of pleasure, Juan showed the way to La Cava de Lalo. Myrna created this small exquisite museum in honor of Edwardo Liceaga's life. Stepping down into the cava-like room it felt as if the whole Liceaga legacy was held here; a living history. The lighting was subdued and yet sent sparks of light through the crystal glasses. There were beautiful appointments of dark carved wood, red brocades and intimate seating. One could imagine many family gatherings here, sharing and tasting the success of another harvest. Most impressive were the wine cabinets holding the dusty bottles from over twenty years of harvest. It felt sacred and the experience was very moving. Juan invited people to reserve this unique room for special events.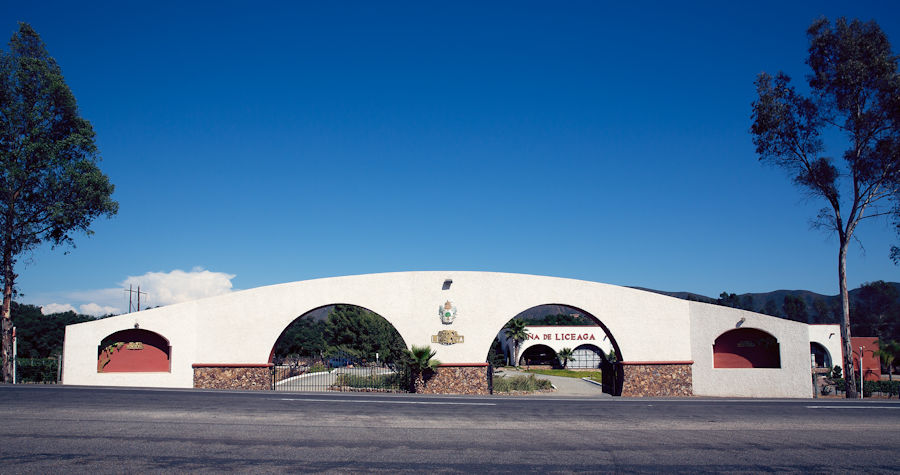 Jesus had come along for training. What a grand time we had talking passionately about the making of wine. The concerns of the valley growing too fast with its new fame. Myrna holds firm in not expanding the business which is already so successful. We talked more about the respect that people have for Myrna, who took on her husband's dream and in doing so turned the grief into a number one award winning winery. We chatted about the recent rains that filled aquafers and in the first 4 months of the year that was more rain than all of 2016. Water being the most critical and necessary element was a dire problem during the recent drought. Juan poured their most popular Merlot Reserve, 24 months in new French oak and it was light enough on the sulfites to be nearly organic. It was a perfect wine in this setting. Deep, rich, smoky and elegant, yet friendly, inviting us to linger in the experience. Juan told a story about the old movie, Sideways. It was a rather raw movie featuring two guys in Napa Valley. One of the actor's lines dismissed the Merlot grape as of no importance. The consequences from this one comment crashed Merlot's popularity in Napa. However, Merlot is favored in the Baja wine country, because it grows perfectly in this region. All one has to do is sip the Liceaga Merlot and the palate knows the truth. You cannot rush a perfect wine. In this day of multi-tasking and sprinting from one place to another, here in the Valle de Guadalupe, the wine teaches us to slow down, mellow out and linger in the essence of love.
Article by Martina
Photography by Cintia Soto