Highway 3 to Tecate winds gracefully through the foothills dropping into the Baja California wine country. The Guadalupe Valley opens up in a vast promise of delightful experiences. It is October, the grape vines have given of their fruit and are beginning to rest, their leaves turning golden to brown. The winemakers are hard at work now nurturing the 2017 harvest through the fermentation, while the 2016 harvest is ready to be bottled. Vinos Lechuza is nestled in the vineyard on the north side of the road at 82.5 Km between the turn off to Laja and Los Naranjos. Vinos Lechuza is a unique name, meaning owl and its fascinating story is about to be revealed.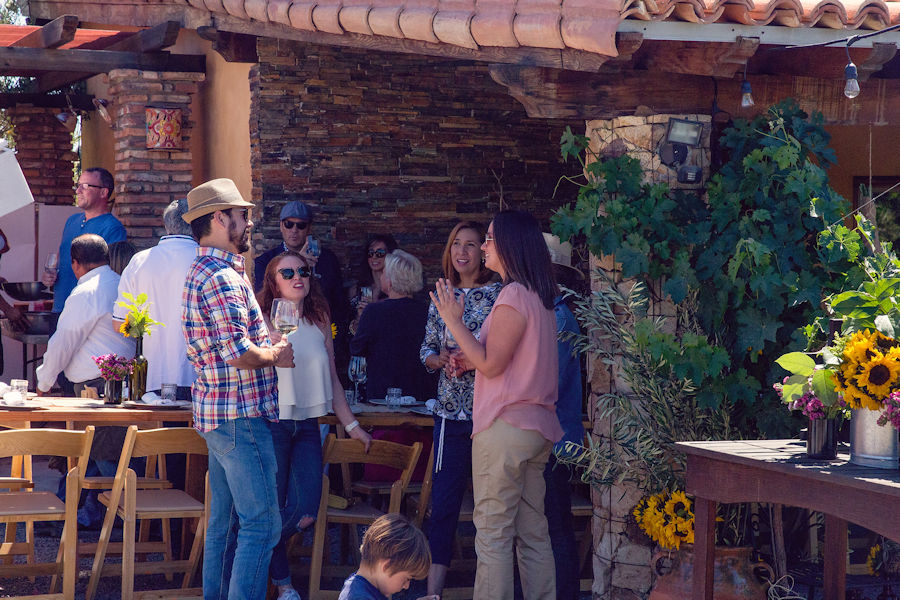 Kristin Shute unlocks the gate and welcomes me in. Kristin is a tall blond Norwegian and in the first meeting, articulates beautifully what it is like to be a winemaker in the Guadalupe Valley. While the business of wine tasting, gift shop and future gourmet deli, is relatively new, the winemaking has been going on since 2005. Kristin's parents, Ray and Patty Magnussen came to the valley with a dream. They had what Kristin calls a "highly addictive hobby." She tells the story of during that period of time the owls flourished here and Ray loved to watch their silent flight. The barn owl has a white heart-shaped face and a four foot wing span that allows for the stealth of their flight. Barn owls are monogamous, with one partner for life. Besides their beauty, Ray highly respected their service as "ground control," keeping pests out of the vineyard.
Ray and Patty were welcomed into this valley community, as were Kristin and her husband, Adam. As the winemaking flourished, the invitation came from her parents to help create the business. Kristin said, "It was then that we chose to honor the owl with the name Lechuza. They were the first residents here." Kristin continued, "We were greeted so warmly and have such help from our lovely and supportive neighbors. It might seem we rode in on the family coat tails, but it has been work all the way." Adam, a cowboy turned winemaker, quietly joins us as Kristin pours Ray's favorite wine, the 2016 Chardonnay from stainless steel. Kristin laughs brightly and says, "You can easily eat a dozen oysters with this!" And she is right. It is lovely, light and so easy to drink. "Dad said that the chardonnay haunted him all day; looking forward to finishing his night with a glass of this chilled chardonnay. Softly, Kristin shares that Ray had passed away earlier in the year. Adam tells the mystical story of what happened just a few days after Ray's death. "Since Ray passed, I've kept his work shed as spotless as he did. So, I was really surprised when I found bird droppings all over." Adam said he looked up and saw the beautiful white and golden barn owl looking down at him. Lechuza has been a resident of Ray's work shed ever since. As Adam finished his story, silence fell at the wonder of this portent.
Kristin continues the tasting with the 2016 Royal Blush, named after their son Royal, a unique blend of Cab, Merlot and Grenache and continues the story, "As a boutique winery we have the opportunity to be intimate with each and every step from vineyard to barrel. We treat each barrel as an individual entity." Kristin adds, "Our philosophy is; a good wine is what you like. We have wonderful fans of our wine. I had a bucket list wish and it is already fulfilled as I was asked to present our wine to Tomas Keller's at his French Laundry. And recently a case of our wine was taken to the President of Mexico. We are so blessed."
Amantes means lovers in Spanish and is the label for a 2014 blend of 5 grapes. "This was our first harvest without dad. We named it for the lovers that our parents were, Adam and I are lovers and we are the lovers of this craft." By this time the love is very evident as the story continues to unfold. The first sip of Amantes makes me smile with its fruit forward and a strong red finish. "When my parents asked if we wanted to leave California and move to Baja to create the business part of the winery, we had to ask some important questions. We were just treading water north of the border. Could we have the family life we wanted across the border? Yes, but we would have to work really hard." It is obvious that the son is thriving in the gentle cycle of nature and the family unity. A cute picture shows Royal, his tiny hands holding a huge grape cluster and munching away. Adam quips, "He is really cutting into the profit margin. He probably eats a bottle a day." Everyone laughs and Kristin suggests that a sense of humor is an important ingredient in winemaking.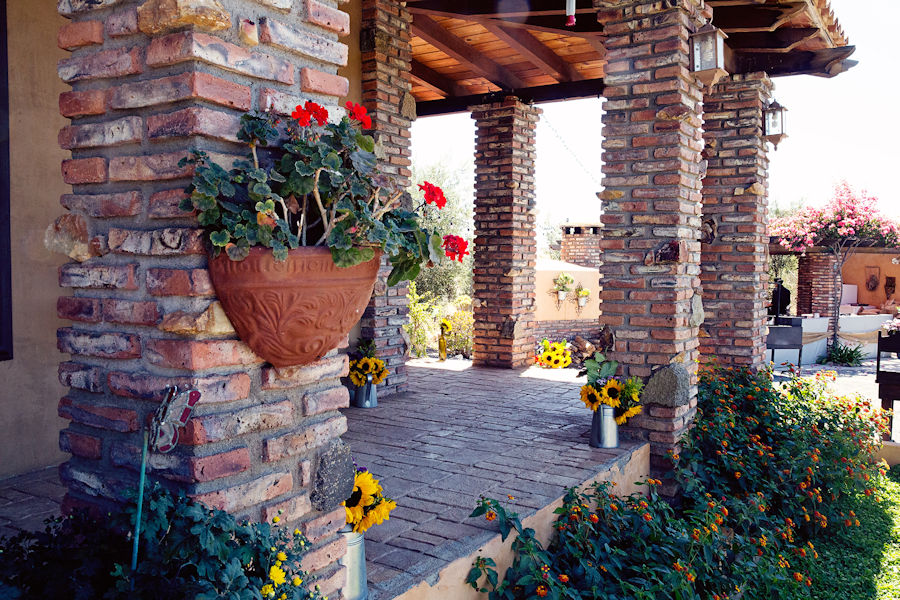 Adam brings out a 100% 2014 Cabernet Sauvignon. Luscious plum, filling the mouth with a soft invitation, reminiscent of Christmas and not a hint of a flaw. Kristin suggests that this grape is like a beautiful woman in a little black dress. It stands alone on its beauty. The wonderful stories continue. "When I first starting working, my mom called me to ask if I was OK? Yes, why? Well your neighbor called me to ask permission to take a picture of you in the vineyard. She said she wanted to show it to her friends because they'd never believe that a blond gringa would cross INTO Mexico to work picking the grapes!" Everyone is laughing now, and it is much more than the wine. It is the stories, the love and a way of life. The first taste of Lechuza wine will tell you about the family that produces it.
Adam has been waiting patiently for what he calls the "Big Wine." He pours the 2014 100% Nebbiolo and this tall lanky cowboy has his own way of describing it, "edgy, a little saddle leather, a note of tobacco and I chew the finish." Kristin chimes in, "It starts very assertive and finishes like a lovey dovey…it is the very essence of the Valle de Guadalupe." They have pulled in their last grapes, just before a heat wave is about to hit. There is a sigh of relief. Adam admits, "I can't sleep during harvest." Kristin adds, "We have to keep our heads in the game. It is all about the details. It's just like raising a child, if you pay attention and nurture it every step along the way, you will have a fine wine. If you neglect it, it will turn on you. Dad said, never relax. If you do it is the perfect set up for failure." Kristin and Adam are very clear about having tastings by reservation only, "We want to catch the moment and give visitors a completely wonderful experience that only this kind of attention can give."
Interested in trying La Lechuza's wines in the U.S.? Visit La Lechuza's online wine room at Patrick Neri Selections to buy online now!
Article by Martina
Photography by Cintia Soto