Off the Ruta del Vino (Highway #3) is an easy drive east to the turn off to a number of wineries in this region. The dirt road can be a bit tricky during winter rain, but should be passable for most cars. Winding through little ranches and past Xecue, watch for the large rustic wooden signs pointing the way onward. At the T in the road, a large Don Tomás sign directs you to the right. A short distance and you come to the guard kiosk at the massive gate. The drive in takes you into what looks like a small village. The vision for this winery is still unfolding. Settled in the vineyard are casitas for overnight stays, a cute tasting room of adobe and a restaurant. All the buildings are surrounded by thoughtful landscaping using native plants.
Like many of the newer wineries that are developed, Don Tomás began in 2014 creating his "garage wine." He had worked in the US in the textile industry, and on his return, besides beginning to venture into winemaking, he developed his own textile printing business that now exports to the United States where he learned his trade. Jorleny Miranda greets us and offers us a bread and cheese plate that comes with the tasting. She is well versed about her work in the wine industry and also grateful for the opportunity to continue to learn beyond her education as an oenologist. She sadly reports that Don Tomás died at age 42. But the whole family is carrying on in his footsteps and holding his vision continues the evolution in the growing enterprise.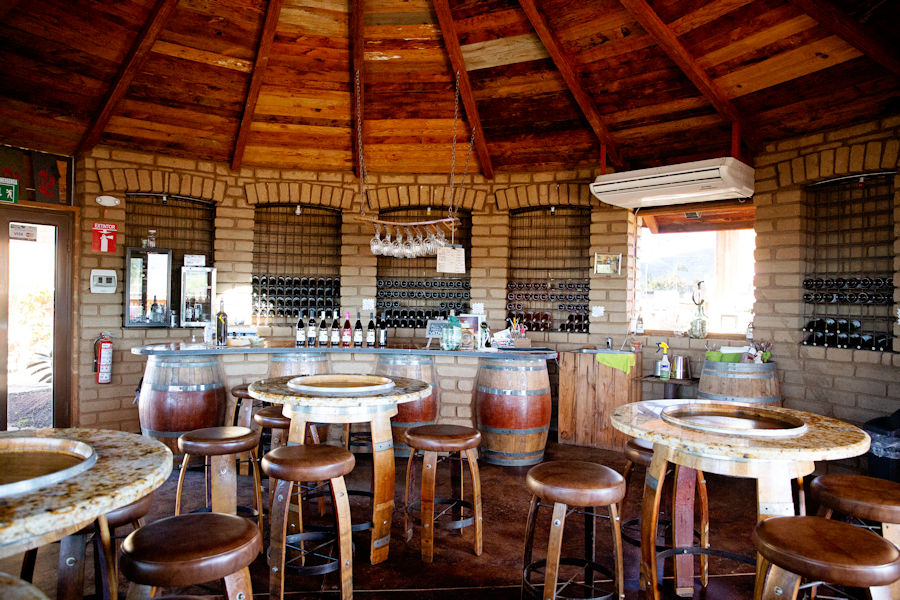 Don Tomás has 8 labels. Reales appears as the name on all of them, with a different number. Jorleny pours Reales #4 a 100% Sauvignon Blanc with 5 months in stainless fermentation and 8 months in the bottle. It is a lively, crisp and juicy young wine with lots of tropical notes. This would be a perfect addition to a summer beach party or sitting overlooking the sea. Jorleny is a good conversationalist and enjoys sharing what she has learned. Wine tasting is more than enjoying a good wine or fulfilling a curiosity about Mexican wines; it is a way to understand wine in a different way. Listening to the process from vine to bottle creates an appreciation for the art of making wine. It takes time and attention. Most winemakers will laugh at the idea that they are doing this to make money. It is all about the challenge, passion and love.
Jorleny begins to pour the #5, a 2018 100% Grenache with 8 months in stainless fermentation. For a young wine it has a nice structure with fruit finish. This Reales is also a lovely summer wine or for those just beginning their adventure into wine tasting. Don Tomás wanted to educate the Mexican nationals in a different type of culture. To appreciate fine wine, one must be present with it to catch its subtle and complex qualities. This is a much different experience than the fiestas where beer and tequila are served. He knew that he needed to produce a wine with a gentle invitation and in this way one can learn to appreciate and develop a discerning palate for more complex wines in the future. The 2017 #2 came next with a blend of 7 grapes with 15 months in French and American oak. Its striking purple plum complexity made us want to linger over this, paying attention to what it offered.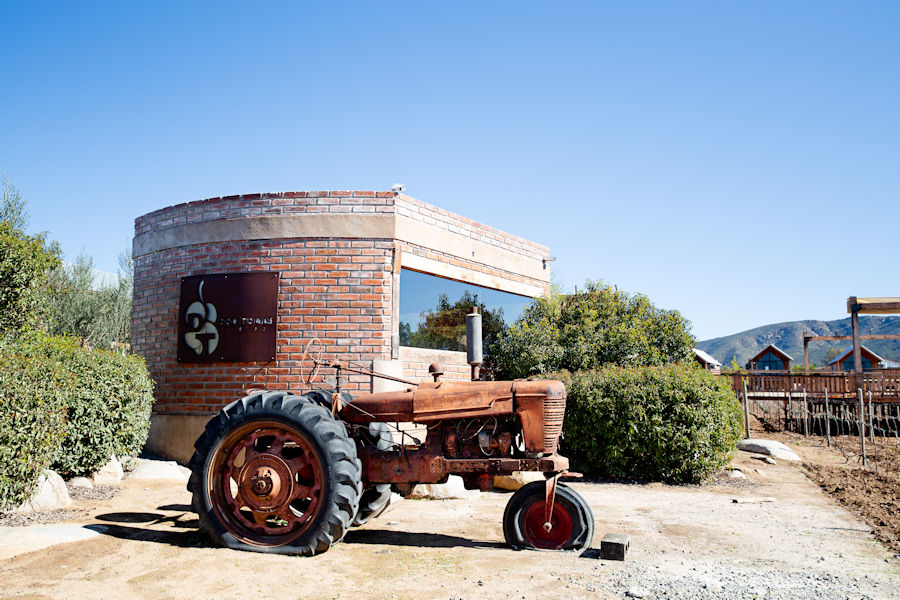 Jorleny talked about the most important things in winemaking. It starts in the vineyard with the need to respect every aspect that goes into making wine. Nothing can be overlooked. We are offered #6, 2016 Nebbiolo and Sangiovese with 18 months in new American and French oak. The Sangiovese varietal is a fairly new grape to be introduced in the valley. It is actually rather scarce outside of Italy. This was an interesting addition to Nebbiolo. Sangiovese is savory and can have a wide range of tastes, but tends to add an earthy essence to the already richness of the Nebbiolo. It also takes a fruit-forward position with cherry flavors. We very much liked this blend with Nebbiolo which is often left to stand on its own. We asked about the A-frame casitas of wood and brick nestled in the vineyard. The idea, we were told, is about creating a place for people who have a "passion for serenity," a place where visitors can come and "disconnect from the stress of city life." Thus there is no internet or phones. More important are the comfortable queen size beds, air conditioning for the summer and a coffee maker.
Jorleny asked if we would like to try their dessert wine. This is a very interesting process and one might not think it would have a good outcome, but we were about to be impressed. The story about how this is produced is both positive and negative. One of the most devastating things that can happen to a vineyard during the maturing of the grapes near harvest is a rainy period during the summer heat. A mold and or fungus will attack the ripe fruit and can destroy the whole crop. Growers have only two choices, spray with an antifungal or if not caught in time, they will lose the crop. However, in one instant this natural gray fungus called Botrytis Cinerea, also known as "noble rot" can be a beneficial mold. Wines made from these berries have a rich, complex character and are high in residual sugar, making it sweet like an old world port. It is a natural process that allows for the sugar content, when generally vintners will be very precise about sugar levels in the red wines. Frankly, we were not prepared to like this sweet wine. But we were very surprised. While it was young in years it was delightfully intense and you could almost call it sexy. We all thought that sipping a glass or two after dinner, while lounging on the patio, watching the sun go down, was a definite addition to our "Bucket list" for the future.
We did a little tour of the restaurant. The huge cavernous room has an open kitchen and earthen ovens, giving a feel of an old Cannery Row warehouse. It is a thoughtful menu that includes a selection for children and homemade ice cream. And for the adults, the ice cream is made with the delicious dessert wine. This is yet another good reason to return to Don Tomás Viñedo. Plan to stay awhile.
Article by Martina
Photography by Cintia Soto