Bouncing along a dirt road in search of El Corcho Rosa (the Pink Cork) is just the beginning of the adventure into a very unique presentation in the Guadalupe Valley wine country. To say that this is a multilayered story would be an understatement and it is as complex as the wines that you will enjoy presented by Sitara Monica Perez. With each beautiful tasting a story presents itself, bringing an even deeper appreciation for what it takes to create an outstanding wine.
Pulling into the rural campo and rustic wine tasting bar, friendly dogs greet you. This is a place to relax and be comfortable with absolutely no pretense. Sitara's winning smile and warm greeting will make you feel instantly at home. Sitara, a petite blond sporting a delicate grapevine tattoo encircling her ring finger is a serious winemaker in what has been considered, in the past, a man's world. She grins and says "I'm fearless," but is fast to say that being a new winemaker to the valley, who happens to be a woman, has been a rewarding experience. She went to a small, regional wine school referred to locally as "la escuelita," in El Porvenir which graduates many of the valley's winemakers and found herself welcomed into the community. "The people here are extraordinarily friendly and helpful," she stresses, "going so far as, during harvest, a neighbor dropped what he was doing in his own harvest to make a special tool I needed." She agreed that Guadalupe is a wine making community and is not bothered by the typical competition that effects other businesses.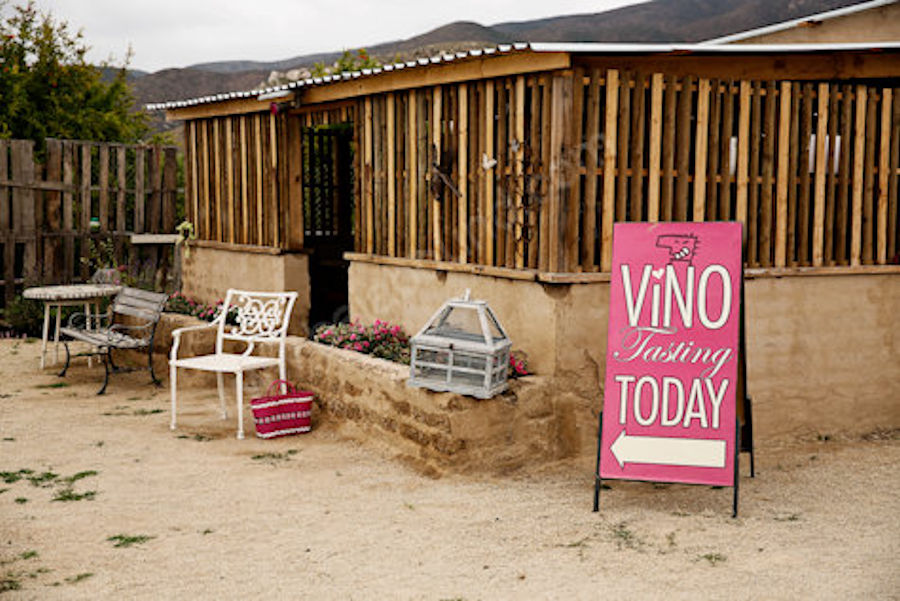 Sitting outside under an open roof made of gnarled old grapevines and wine bottles, gives a sense of an old world rancho, including open fields and vineyards in all directions. While Sitara pours the wine she tells wonderful stories. Born in the United States, she has been traveling alone for many years and has lived in five Latin American countries for thirteen years. Speaking about her Baja home and business, "I feel completely safe here and have never had a problem." Her passion for making wine has created this heart-felt mission statement.
"Our mission is to awaken the heart, engage the senses, and spark the imagination in everyone who enjoys our wines. We pride ourselves in providing inspired, fresh and approachable new wines to discover every year... We believe that wine should be fun, delicious, and approachable... With imaginative blends, playful names, and colorful labeling, our 100% Mexican wines combine the world of wine with south-of-the-border inspired art, modern, sophisticated graphics, and pop culture, with a distinctly feminine message."
The lineup of Valley Girl Wines start with the younger wines. They represent Sitara's two sisters, herself, and the fourth to honor the importance of girlfriends. The labels are a custom design by "Chente," a Cockney friend from East London. The label is of the face of a contemporary woman painted like a Mexican catrina with wonderfully wild hair. La Consentida, The Pampered Girl, is the youngest sister and 100% Chardonnay. This was the first Chardonnay Sitara ever produced and it won a silver medal in Sonoma Valley in the International Women's Wine Competition. This beautiful wine glistens like sunshine and has "intoxicating fruit aromas." It is full and silky with 5 months in refurbished American oak. Sitara adds the details, "This Pampered Girl was lovingly attended and indulged while in barrel, creating a one-of-a-kind sensory experience ripe with provocative fruit and just enough toasted coconut to seduce. It has bright acidity for a complex and lingering finish." It certainly does make you want to linger.
We move on to the middle sister, La Traviesa, The Flirty Girl, is astonishing. It sparkles like a faceted Mexican fire opal, blazing in multilayers of sunset oranges. Sitara smiles and clarifies her choice, "People think that a Rosé is not a serious wine. I have used some of the best old vine Grenache south of Ensenada." There is no doubt this wine lives up to the statement, "Seductive, vibrant, and a little dangerous, our mischievous girl keeps you coming back for more."
La Atrevida, The Bold Sister, represents Sitara herself. It is a 100% Tempranillo, the famous Spanish grape that grows very well in Baja's climate. Bold Sister has 12 months in the barrel. Here again, the gem-like color flashes with garnet, having an aroma of plum and "forest floor." So smooth, it fills the mouth with rich flavors of dark chocolate, blackberry and oh, so much more.
La Chula, honors the girlfriend. Chula is a slangy saucy word in Spanish, suggesting a pretty friendly woman or love interest. Sitara's humor is obvious and she states, "I don't think wine should be snobby." And by this time one can see it is certainly true. At the same time the Valley Girl Wines are serious contenders and are beginning to draw major attention. "All my wines are friendly. I know what I am looking for in each harvest and barrel. I look for the 'sweet spot' that tells me, that's it." With passion she says, "The wine expresses everything that happened that year. It is a constant process of overcoming obstacles, being present and patient. Each year I commit to coming as close as possible to recreating our favorite from the year before. But it is always just a little different. Winemaking is a journey filled with many choices."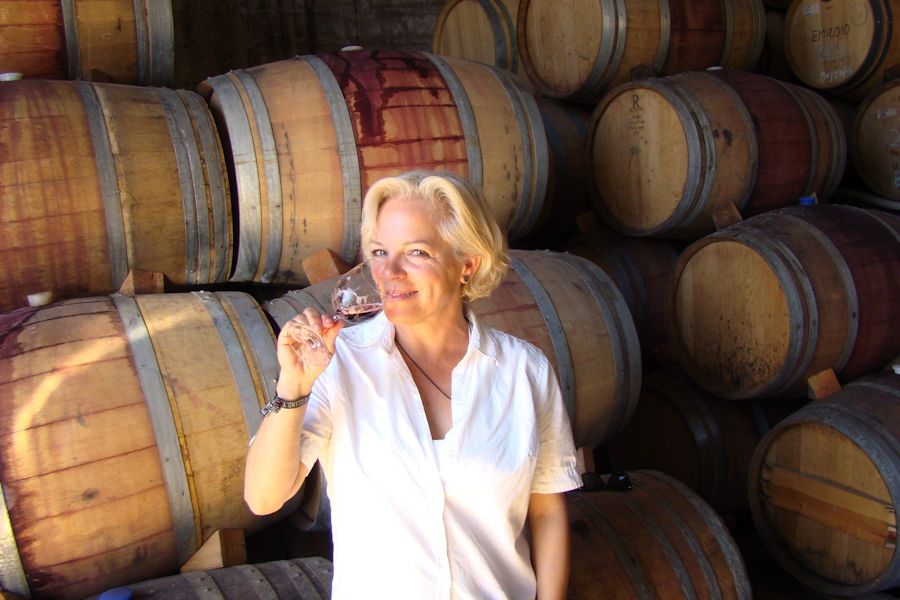 Other intriguing names include, La Dama Tatuada, The Tattooed Lady, 90% Cabernet Sauvignon with just a splash of Grenache and La Vaquera, The Cowgirl, a blend primarily of Tempranillo and old vine Grenache, with touches of Syrah and Cabernet Sauvignon. "I am asked if I am making wine only for women," She laughs. "Men love this wine, too. Chente helped me develop these labels and came up with many of the ideas which frankly appeal to both sexes." By now the word is out and TripAdvisor gives a 5 star rating. "What I hear often from the L.A. folks is a comment about how authentically I am living my life. But what has also really surprised me is seeing that what I do inspires young Mexican women. I hadn't thought of becoming an influence. I take it very seriously."
This story of Sitara and El Corcho Rosa is served best by a compilation of a few five star comments, "Rustic, intimate & delicious. The beautiful rustic surroundings and relaxed environment soothed my soul and left me wanting more! Sitara takes the experience to another level. It is a nice departure from the larger wineries and this small wine bar boasts big flavors in their wines. There may be bigger and fancier, but they won't be as fun or as good."
Sitara with her daughter, son and soon-to-be daughter-in-law host parties, night fires and valley tours. She has established that artisanal wine making is doing quite well in her capable hands. She is freer here in Mexico in many ways to be able to explore new methods and admits, "It's good to learn the solid rules of winemaking, so that you know what you are doing when you break them." Every move she makes, while presenting her wines, is with grace and light-hearted humor. But beneath this layer is deep complexity and you know she is "The Bold Girl" with a clear note of courageous daring.
Article by Martina
Photography by Cintia Soto