This is a destination for true wine lovers and one of the most unique presentations in the Guadalupe Valley. East on Ruta del Vino #3, past km 88 you will come to a series of speed bumps, watch for a quick left onto a narrow road that runs to El Porvenir. Concierto Enológico does not have the blue signage. Take the first dirt road on the left to Xaroma. Continue to a Y in the road and a cluster of signs; take the right fork. You will travel through spacious undeveloped land with small well tended ranchos and a community that is hidden in the middle of the valley which has a surprising feeling of urban in the middle of 'nowhere." On the right you will see an unassuming, yet interestingly shaped building sitting by itself in an open field.
The architecture of the building is created with recycled materials and to an artist's eye is surely an art form. The structure is covered in the adobe soil of the land and the massive doors are weathered wood and heavy rusted metal framework. I am met by Magaly and feel immediately welcomed. We step into the wine production area and see stainless steel fermentation tanks that reach a 14 meter ceiling and I am told holds 2,000 liters of fermenting wine. I follow her down into the cellar and the vast room opens out underground. Hundreds of cases of bottled wine are ready for shipment and the sleeping oak barrels hold the future of developing wine. The reserved tastings are given here. There is a reason for the reservations as I am about to learn. What Concierto Enológico might lack in the modern building, this winery makes up completely with its visionary presentation. A long, highly varnished pine banquet table is preset with glimmering wine glasses and individual place settings. I appreciate that we will be seated for this tasting, as it is a more friendly idea than standing in lines waiting your turn. Each place has a page of information about the five wines that will be presented, including the varietal's percentage and the recommended cheese that is best to pair with it. Concierto Enológico is passionate about serving their wines in an appropriate setting, giving each person the time to be more present with their tasting. Magaly lays out a dozen small plastic cups containing an interesting assortment of items such as dried fruits, nuts, and spices. There are hundreds of aromas that can be found as we taste; plants, flowers, fruits and can include unusual flavors like forest soil, spices, truffle, tobacco and even leather. Our palate is not educated in a way that can taste a flavor or aroma and put a name to it. This is another advantage which Concierto Enológico offers as a way to educate. I remember how excited I was when I could pick out for the first time the dark plum from a complex wine. Magaly says, "We really want people to enjoy the wine and this helps to educate the palate to the aromas and the notes that a wine might have. And this information increases our pleasure." Some wine lovers suggest that it takes years in the development.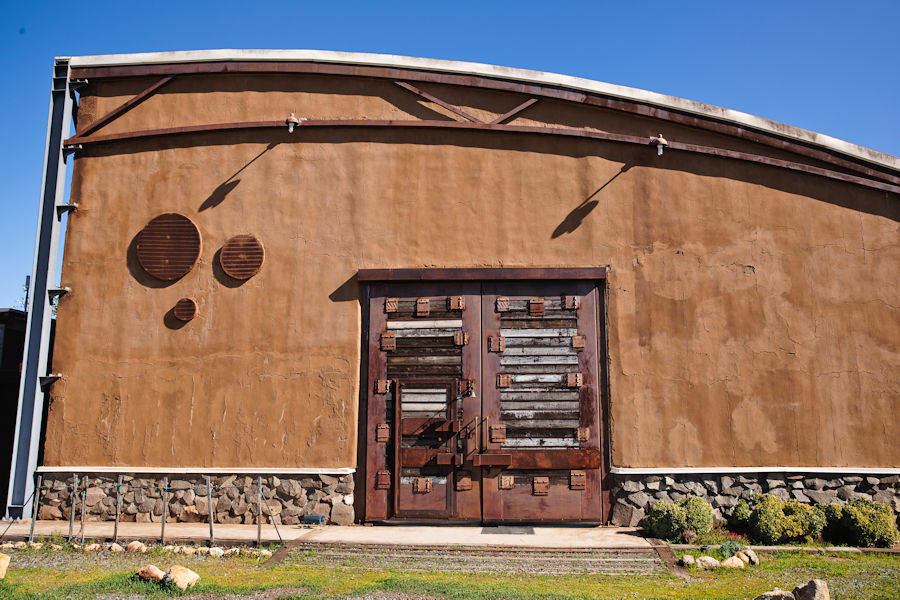 Magaly smiles and introduces the first wine, a 2017 young Allegro, 70% Chardonnay and 30% Sauvignon Blanc with three months in the barrel. Suddenly the great room is filled with music! Each wine will be paired with its unique sound! The voice of Carlos Vives is inviting us to dance with lyrics from "Bailar Contigo". This happy white wine has a touch of kiwi and pineapple. Magaly suggests that I try a cardamom seed from one of the cups, then taste the wine again. This time I could identify the spicy note of the grape. Oh, this was going to be such fun. Magaly is well versed on the history of the winemaker, who was raised as a child in Baja but left to find his way in Mexico City. Upon retirement he wanted to return to his birth place and produce wine. He bought the property in 2011. This is a family operation and Magaly gives Sophia, Manager of Marketing, the credit for the inspired vision of pairing wine with music.
The next on our list is a 2017 Obertura with no time in the barrel. It is a blend of half Cabernet Sauvignon and half Merlot. Magaly grins and says, "I call the music Disco for the Millennials. This is produced as an affordable wine and very popular with many chefs in Mexico City. Obertura is created especially for the first time wine drinkers of Mexico. It is easy to drink and doesn't require an educated palate." The music bounces off the stone walls with a fun tune called "Teenage Dream" by Katy Perry. I sip the fruity blend and catch a hint of blackberry. My foot taps to the rhythm.
Mellow sounds of Stan Getz tenor saxophone plays an all time favorite from the 60s, "The Girl From Ipanema". It brings back memories of youthful days, walking on the beach and pretending to be that girl. Magaly pours a 2017 Pauta, a luscious blend of five reds that pairs so beautifully with the memory. "This is harmony paring," smiles Magaly. "This blend is perfect for the Mexico City palate. There is a taste of prune and date with a slightly sweet aftertaste." I appreciate being able to pick out the hint of pepper which Magaly tells me comes naturally from the Cabernet grape. She explains a special opportunity offered by Concierto, "We invite people to create their favorite blend of wine right from the barrel. You can make your own label and we will bottle it." I know I'll return to do this!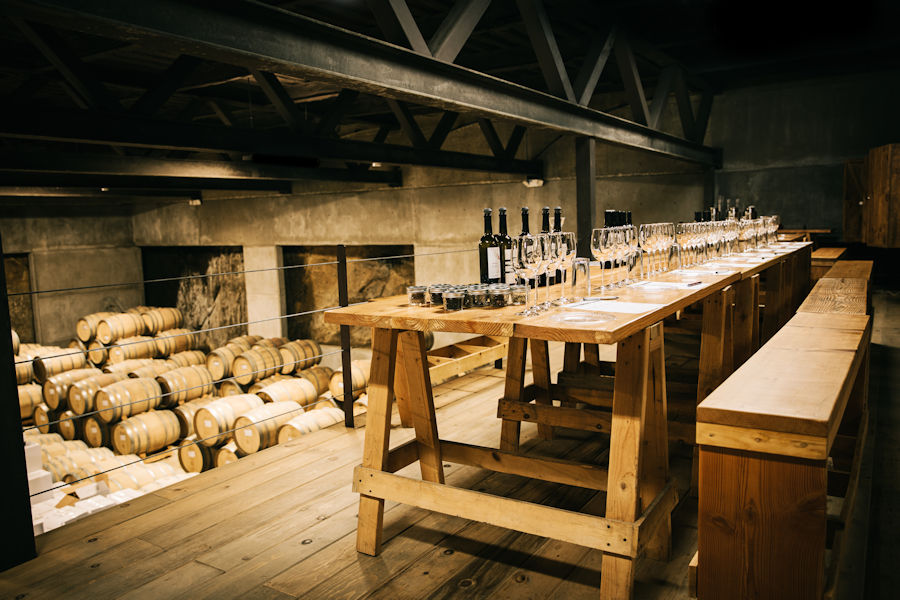 As Magaly proceeds to the next delight, "We produce organically here, but it will take a while to receive the official organic label as it is quite a long process." I am looking forward to the next pairing of music with Forza and I am not disappointed. Forza is a blend of Merlot, Cab and Barbera with 12 months in French second use barrel. The luscious voice of Barry White singing "Can't get enough of your love, babe" merges with the tasting of the dark rich varietals. Magaly adds, "This is great with a strong cheese, like parmesano." It has a high alcohol content, good with the Baja Med foods becoming well known here. Spices and a hint of smoke with fruit in the finish, is perfect with Lenny Kravitz's "American Woman", sexy and spicy for sure.
We are dancing our way to the last presentation, the 2016 Concierto, pairing with West Montgomery and the West Coast Blues. Concierto is a blend of Cab, Merlot and Ruby Cabernet. It has been held in French Oak for eighteen months. And while I am under the spell of its luscious black cherry notes, I savor the warm primary aromas mingling with Louis Armstrong's sultry horn and Ella's singing "La Via En Rose". This brings the conclusion of our musical dance through the five pairings and what finer combination in life could there be, but a blending of special friends, fine wine, and heartfelt music.
Article by Martina
Photography by Cintia Soto