The land of the Guadalupe Valley is so perfectly suited for the growing of the grape. Millions of years the soil was created by geological rising, falling and tilting. The valley combines many elements, sea sediment deposits and volcanic granite to name several. Guadalupe Valley lays between the uprising of the Sierra Blanca mountain range, south and the foot hills of El Golpe to the north with the Pacific Ocean breeze from the west. Here is where Sergio Castañeda Piña chose to set down the first roots of his vineyard, Casta de Vinos. Keeping a low profile, the curved rock structure of the winery blends in with the natural rocky terrain and flat land running to the foothills. But beneath the earth is where you will find the heart of the passionate winemaker and his family.
Sergio leads the way down several flights of stairs that seem to be chiseled from the granite stone itself. He has brought his beautiful young daughter along on the tour. Ana Sofía, is walking in her parents' footsteps and learning all aspects of the family winemaking. Her mother, Claudia Horta Meza is a sommelier in her restaurant, Baja Terra, in Tijuana. The cava itself is literally hollowed from massive stone. Just the undertaking alone is quite remarkable. It was Sergio's vision that is now one of the most unique cellars in the valley. This curved cavern has a tower of stone at the center that rises up into the winetasting room above from where people can look down into its lighted depths. This is the beginning of Casta Reserve cellar. At this time, it appears that the wines are aging very nicely.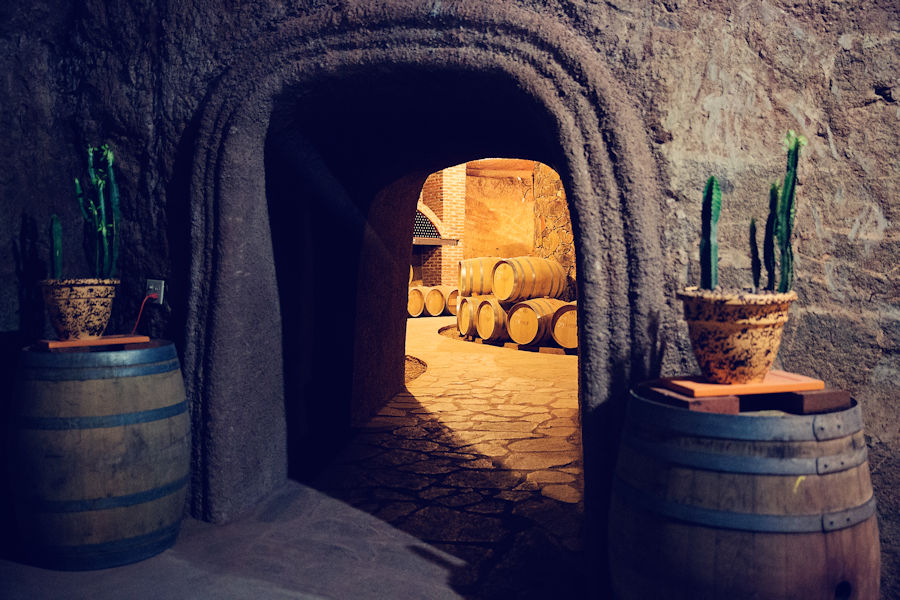 The cava is a relief from the heat outside. At a long wooden table deep in the earth, Sergio and Ana Sofía set out the full line of their production. "We are a first generation family to this valley and the family works in all phases of production, from the fields to pressing to fermentation and bottling." For visitors wanting a VIP tasting in the cava and tour, reservations are required. At ground level and directly overhead the circular room offers ample tastings for those who might drop in on the weekends. An interesting grouping of the labels carried the names of endemic plants of Baja Sur: Cardón, Pitaya and Cirico. Cardón is the 200 year old cactus weighing 10 tons. The Pitaya is known for its fruit and its ancient stories of native fermentation and ceremonies. The Cirico or Boojum Tree looks like an odd Dr. Seuss character. How this labeling came about captures the story of the family's travels. Sergio shared, "This is a life project for the whole family. I plan on dying here, but not soon." He smiles. "I started with just visiting the valley and tasting wines. This grew into curiosity and asking a friend to help me make wine." Chuckling, Sergio revealed an amusing experience, "I was thinking I'd start with just a barrel at home. My friend helped me begin, but told me I had to purchase the grapes on my own. I bought the grapes and when I brought them back, I was told I'd purchased enough for five barrel! I thought to myself, Oh, my, what have I done?!"
I was intrigued by Flor de Roca 2015 with 14 months in American oak. Flor de Roca 2014 was the first wine that Ana Sofía had made herself. She needed a unique chemistry project that would impress her professor. Anna Sofía shared her story, "It was natural for me to think about making wine. Making wine is chemistry in process." She revealed that it begins with how all elements of sun, soil, air and water come together. The grape has a sugar content that has to be monitored precisely and selected at the right time for harvest. The sugar ferments into alcohol. Her father happened to have extra Ruby Cabernet and offered them to her. The Ruby Cabernet grape is a cross between Cabernet and Carignan vines and unique to the valley growers. The chemistry professor was very impressed with her ingenuity and at the blind tasting in Ensenada, the judges were also impressed and showed it by giving Flor de Roca a gold medal. Sergio's pride in his daughter's accomplishment is shown openly. This 2014 winner sold out that first year. The tasting of Flor de Roca 2015 presented with a lovely jewel color of bright violet red. It opened explosively, with black cherry, red pepper and a note of Jamaica. Finally the finish was long smooth and excellent for pairing with Mexican food and pastas. Ana Sofía will be traveling to Spain this year to study all aspects of wine making from planting to marketing. She is becoming an accomplished professional in her own right.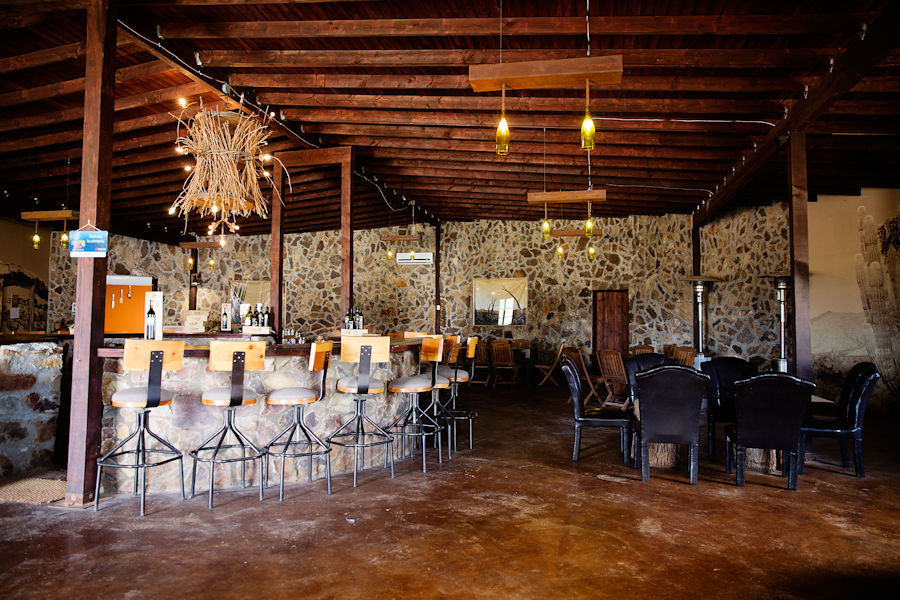 Sergio's philosophy may be unique in winemaking circles. As he pours a very special offering, he explains that they choose to press the grapes lightly by hand. A 25psi is considered a light pressing while other wineries may press up to 65psi to glean all juice from the grapes. Sergio is willing to forfeit the extra juice in order to keep from crushing the skin and seeds which render the juice with a bitter taste. We taste the Casta Negra 2013, a blend of Nebbiolo and Petit Syrah with 14 months in American oak. Sergio is very proud that in 2017 it won a silver medal in Spain. In fact, Casta Vinos has a buried treasure chest in this underground cave with gold and silver medal spilling out in just a few short years of wine production. There have been 27 medals given to Casta wines in both Spain and at home. Sergio claims it is the way that the family works together. He is very clear that the women have a better nose and so as he is working with the wines, he will call in both his wife and daughter to give it the nose test. The Casta Negra is a limited edition, only 50 cases a year. It presents rich violet red in color with aroma of combining flowers with blackberries and fig. Just a hint of coffee. Its long finishing of tannin, cocoa and almonds begged for pairing.
On the weekends the restaurant features oven fired pizza, tacos with fascinating and unique combinations like pulpo and herbs, as well as vegetarian empanadas. Years ago Sergio saw an American made movie, Bottle Shock. Set in the 70s it portrayed the era just before Napa Valley wines broke into the world wine competition. He feels certain that Baja California wines are poised to be recognized in this way very soon. Sergio expresses his welcome to Baja Bound readers. He wants everyone to know that the projects of the Baja California wineries are as good as anywhere in the world. He promises it will be a wonderful experience in the beauty and peace of The Guadalupe Valley.
Article by Martina
Photography by Cintia Soto
Reference: Baja California Plant Field Guide by Norman C. Roberts