About HDI Seguros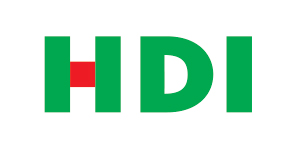 Read the HDI Seguros Auto Conditions
Read more
HDI Seguros is part of the HDI-Gerling International Holding AG family of Talanx companies which in 2008 reported $27.5 billion dollars of premium business and is one of the most important insurance companies in Europe. HDI-Gerling International Holding AG, with more than 100 years of experience, operates in 14 countries with an income of more than 2.9 billion US dollars. In Latin America, HDI has a presence in Brazil, Chile and now in Mexico. Learn more about HDI-Gerling. Learn more about Talanx.
The mission of HDI Seguros, a company with sound ethical principles, is to protect people's life or property against damage or loss. Since its beginnings as Seguros del Centro in 1943, it has distinguished itself by establishing long-term relationships with its clients, and offering the best service at a fair price. This philosophy has enabled it to achieve a sustained growth and penetrate Mexico's major cities with offices of its own.
In 2009, HDI-Gerling International Holding AG acquired Genworth Seguros (now called HDI) as part of their global expansion strategy and to expand their presence in the Latin American market. HDI Seguros offers the same great service and coverage experienced with Genworth Seguros.
HDI Seguros offers their policyholders:
Respected brand name
High quality insurance products and services
Auto claims and repairs may be settled in Mexico or in the U.S.
Auto claims office in McAllen, Texas
Bilingual staff
Features of our HDI Mexican auto insurance policies:
Daily, six month and annual policies
Full coverage or liability only
Full coverage available for many motorcycle models
Various limits of liability from US $50K up to US $500K
Medical expenses for occupants; various limits available
Legal services including bail bond
Claims, medical and travel services available 24/7
Roadside assistance on most policies
Expanded coverage, including vandalism and partial theft offered on the Premier policy
View more policy features on our Summary of Insurance Coverage
HDI Seguros' History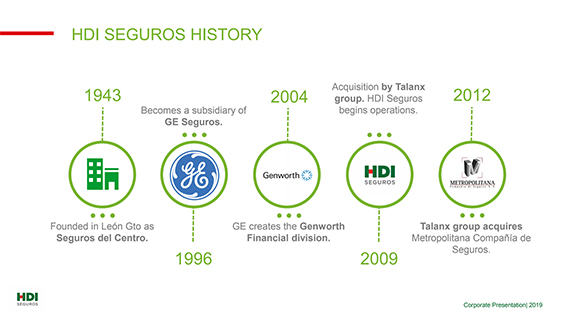 Contact (Corporate Headquarters):
HDI Seguros
Paseo de los Insurgentes #1701
Col. Granada C.P. 37306
León, Guanajuato, Mexico
Tel. (52) 477 710 47 00
www.hdi.com.mx
Map of HDI's offices in Mexico.