Beyond Guadalupe's Wineries
By Greg Niemann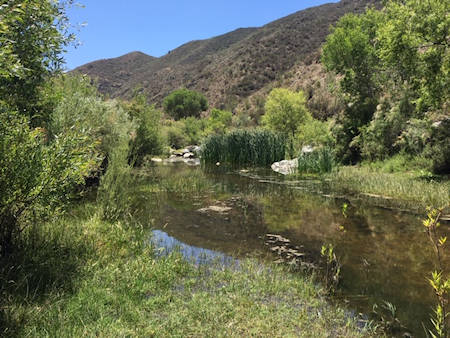 What else can one do in a famous wine valley besides partake in winery tours and enjoy samples of the of eclectic palette offerings? Perhaps you want to see what else is in the area? Maybe some people in your group want to do something else? Or do you want to entertain children?
The famous Valle de Guadalupe (Guadalupe Valley) has morphed into Mexico's most-productive and famous wine-growing region over the last 20 years. Now a major tourist attraction and located only 12 miles north of Ensenada, the communities of Francisco Zarco, San Antonio de Las Minas, and El Porvenir form the heart of Baja's famed Wine Route (Ruta de Vinas).
Today, with over 100 wineries in the valley, a wide range of hotels from "glamping" to "posh," and upscale restaurants that feature what is called "Baja Med" cuisine, the valley has become one of the most important tourist destinations in Mexico.
Between 800,000 to 1 million people currently visit the Wine Route each year, culminating in August's Fiestas de la Vendimias (Harvest Festival, Aug. 6-22, 2021). To find a lot of good information regarding the wineries, various tours offered, and/or the wine festival, tourists can go on-line. Baja Bound, for example, offers a comprehensive Wine Country Guide.
Yet people sometimes ask me, "What's there besides the wineries?" As it had been several years since I had visited the valley, I decided to check it out. I learned that today the valley also offers several museums, a zoo for children, an old western town, and some interesting and historical hiking trails.
Visit Mission History at Guadalupe Museum
Back in the 1980s, I visited the Guadalupe Valley seeking the ruins of the Misión Nuestra Señora de Guadalupe (1834), Baja's last established mission. It was abandoned in 1840 following attacks from local Indians. The ruins were hard for me to find back then but today a historical park has been established with a small museum at the site overlooking the river valley. (Town of Francisco Zarco: On Calle Tercera, 2 blocks east of Calle Principal).
Museum of the Russian Settlers
A curious chapter in Baja history was in 1905 when Mexican President Porfirio Diaz provided 13,000 acres of fertile land in the Guadalupe Valley to a religious Russian Sect of about 500 people who had split from the Eastern Orthodox church, settling in the town of Guadalupe (later renamed Francisco Zarco).
Along with ranching and farming, the settlers realized the warm valley area to be perfect for grapes and they started making wine. In fact, the Russian family-owned vineyard Viñedos Bibayoff (The valley's oldest, established in 1906), is still around and open to the public.
In researching my book Baja Legends in the late 1990s, I was pleased to see a bit of the Russian heritage remaining near the Bibayoff winery when I discovered the Museo Comunitario de Valle de Guadalupe. It was crammed with old Russian photos and artifacts and I met several members of the Samarin family who ran it. On my recent 2021 visit I saw that is still there (On Calle Principal, just west of central Francisco Zarco).
Today there is an adjacent restaurant Familia Samarin and the tasting room of the Bibayoff Winery. (Viñedos Bibayoff). The museum is worth a visit and is a good representation of the Russian sect that settled the Guadalupe Valley.
Museo del Vino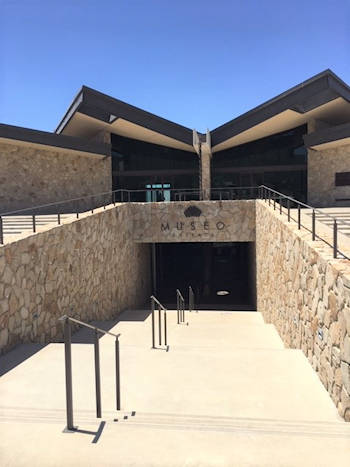 There is also the Museo del Vino (Wine Museum) across the road (Highway 3, K-81.3) from the Finca el Mirador and the sprawling Hacienda Guadalupe Hotel. The modern-looking two-story museum is divided into several sections and also hosts four temporary exhibitions each year.
One room is dedicated to the worldwide history of wine and the specific viticulture industry in Mexico. Other rooms explain the production process as well as the promotion of wine, festivals, and the wine culture in Baja California.
The museum is open from Tuesday to Sunday from 9 a.m. to 5 p.m. Small fee. Some of the Wine Tour groups do stop at the museum.
Other Museums
Along with the large Museo del Vino, many of the larger and more established wineries also have exhibits, primarily centered on their vineyards and particular viticulture. These include the small handful of large wineries that were established by the 1990s, including L.A. Cetto (1928), Domecq (1972), Mogor-Baden (1980) and Monte Xanic (1987).
Jersey Dairy Children's Zoo
I learned about the Zoologico Parque del Nino Jersey when doing an article about Baja's Jersey Dairy. The Jersey Dairy-sponsored kiddy park has morphed into a full-fledged zoo, becoming the state's second largest zoo. Now 13-years-old, Zoológico Parque del Niño Jersey is very popular with local families. (On Calle Principal about a mile west of Francisco Zarco).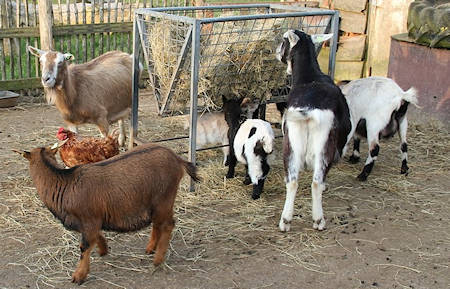 I arrived one morning just after it opened and excited kids were heading for all the attractions as their parents set up picnic tables. There is much more than just the zoo. Along with camels, jaguars, monkeys, baboons, hippos, emus, guinea pigs and other animals, the 30-plus acres features 3 swimming pools, ponds, paddle boats, lots of playground equipment, and covered palapas and picnic tables. There's a petting zoo and even a little train for rides around the park.
It can be a good outing for the family, and a memorable day for children. Entry is 80 pesos for children, and 85 for adults (About $4.00), (Also small fees for the tram, bicycles, paddle boats, etc.).
Rancho Las Delicias – A Touch of the Old West
I was surprised to see a Western Village on the side of the road leading from the old Tijuana-Ensenada Libre (Mex-1, free) road to the Guadalupe Valley.
Ecoturistica Rancho Las Delicias, just to the west of the valley's first wineries on the main road is not a bone-fide old western town, it just was built to look like one. A touristy stop primarily for Mexicans, there were three busloads of them wandering the grounds and taking photos like mad when I was there.
It is picturesque with old storefronts, western wagons and assorted rusting detritus. There's a pond, several shops with souvenirs and western clothing, and guests can also purchase a Mexican buffet meal. For small fees there's also horse and pony rides, and miniature golf. Tours are available. Worth a brief visit.
Hiking Nearby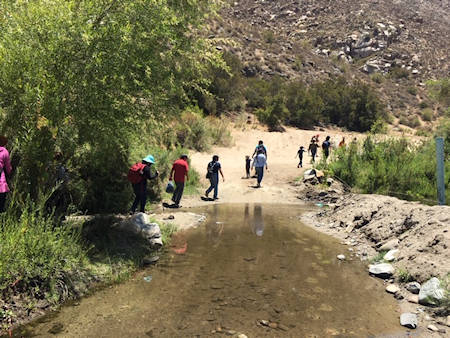 A lot of people like to keep active and get out and discover nature. There are several hiking trails available from or near the Valle de Guadalupe, from easy to moderate, to hard. Here are a few for your consideration:
Valle de Guadalupe Hot Springs and Ruins: (Moderate, 3.6 miles out/back to hot springs, 5.4 miles to ruins, 50 peso fee.). Turn east off Highway 3 at Domenq Winery on paved road. Pass El Cetto Winery, continue on dirt to rancho at far end of valley. Pay people at rancho, park there or continue drive up to rustic camping area and walk from there. Follow trail by stream up. Beautiful waterfall on way (mostly dry in summer), there are 2 hot springs up trail from waterfall. Good destination or continue to old way-station ruins used by miners). Trail easy except for few boulders. When I went in May, 2021, I noticed several people in a large group even had toddlers and babies. (Trail little changed from when I hiked it in March 1997 except with a wet winter that year the waterfalls were superb. (My hike back then became chapter "Taco and the Mountain Man" in my book Baja Fever.
Dona Petra Canyon: Moderate 13.3 Mile out/back scenic views (Elevation gain 2,244 ft. From 3-D to Ojos Negros on Lib. Ensenada. Take Prolongacion Avenida Ruiz north off 3-D to end of pavement and trailhead. Trail ends up on the eastern reaches of San Antonio de las Las Minas/Villa de Juarez.
4.5 stars on reviews, which include these comments: "Nice views," and "Excellent trail."
Santa Cruz Trail: Moderate. 5.1 mile loop. Heart of Guadalupe Valley. Offers great scenic views and mountain biking. San Antonio de las Minas/or Villa de Juarez, Just north of Plaza Fatima and El Porvenir cutoff off of Highway 3, on west side. Turn off at sign for "aerodromo" and park near a couple of old Airstream trailers. Take your mountain bike or hike.
El Salto Trail: Popular 2.1 mile out/back (Easy) or 3.7 mile loop (Moderate). Elevation gain 728 feet) Near community of El Salto north of Guadalupe cutoff, off Highway 1, Trailhead off short dirt road east to trail that features a pretty waterfall. Good trail for all levels with a little bit of rock scrambling. El Salto Trail also offers rock climbing opportunities for enthusiasts.
Into the Valley of Grapes
While historically I'm a relative newcomer to the Valle de Guadalupe, having only visited over the last few decades. Yet I have watched it morph into a real tourist destination. The padres found it a desirable location in 1834, only to have the locals chase them away six years later.
The miners who passed through the area in the 1880s did not linger long enough, so intent were they to continue their quests for gold. The Russian settlers of the early 20th century knew a good thing when they found it, as did the 3,000 or so Mexicans who were transplanted there under the ejido act of President Cardenas in 1938.
By the 1990s the lush valley was a multi-colored blanket of fields with a myriad of produce being grown. The grape was king, and the half-dozen wineries extent were producing some of Mexico's finest wines. Soon fledging vintners were establishing small vineyards and boutique wineries. The valley sprouted to over 100 wineries which attracted the attendant tourist businesses.
Now, with over 20 years as a wine tour destination, it was inevitable that more attractions would be offered. So, in lieu of the gourmet Baja Med cuisine, grab a taco off one of the many local stands, enlighten yourself at one of the museums, take the kiddies to the zoo, or "hit the trail." The wine sampling will await your return.
About Greg
Greg Niemann, a long-time Baja writer, is the author of Baja Fever, Baja Legends, Palm Springs Legends, Las Vegas Legends, and Big Brown: The Untold Story of UPS. Visit www.gregniemann.com.