Valladares, a Person and a Place
By David Kier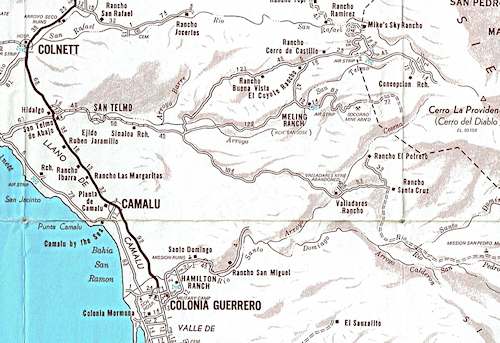 Located in the foothills of the Sierra San Pedro Mártir, Baja's highest mountain range, is a place called Valladares. Today, it is a ranch about thirty-five miles east of Highway 1, but in the 1880s it was an important gold mining location. The mine symbol of a crossed pick and shovel, continues to appear on most maps to this day.
Who was Valladares?
Manuel María Valladares was an important Native Cochimí Indian and a neophyte at Mission San Ignacio. Between 1754 and 1768, Valladares served repeatedly as a godfather and a witness, according to Jesuit records. In 1769, with the Franciscan Order now in charge of the missions, the Spanish government organized an expedition for the occupation of Alta California. Part of that expedition included two overland mule trains. The first was in March with Captain Fernando de Rivera y Moncada and Padre Juan Crespí (of Mission La Purísima). They were the first Spaniards to blaze a trail to San Diego. Franciscan President Junípero Serra was the last to leave Loreto and met up with Governor Gaspar de Portolá weeks later at Mission Santa María.
Being trustworthy, able to translate Cochimí into Spanish, and a recent widower, Manuel Valladares was contributed to the expedition by Fray Miguel de la Campa y Cos of the San Ignacio mission. This was done when Father Crespí was at San Ignacio on his way to join Portolá and Rivera.
The lack of grass for grazing at Mission Santa María had caused a need for the pack animals to be moved on to Velicatá. Father Crespí and Captain Rivera traveled on with twenty-five soldiers, four other Spaniards, and forty-two Native Indians to find the best route north of Velicatá. Serra and Portolá followed after several weeks. Serra founded his first California mission at Velicatá and named it San Fernando.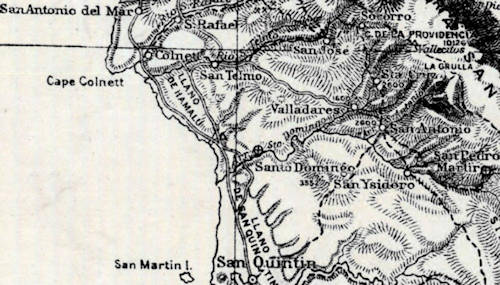 Several of the Indians who traveled with Crespí and Rivera, became ill north of Velicatá. Some were carried while others were sent back to Velicatá. At San Isidoro, an Indian from Mission Santa Gertrudis was buried. Manuel Valladares became ill at San Isidoro and his condition deteriorated over the next six days.
On April 11, 1769, at half past eleven, Manuel Valladares died. Padre Crespí buried Valladares along an arroyo that ever since, bears his name. Crespí writes he placed a cross over his grave and goes on: His death I felt with all my heart, for the good services he had done me on all the way, acting as my interpreter. Anima ejus requiescat in pace. Amen.
On June 2, 1769, Father Serra, and Governor Portolá came upon the gravesite. It had been disturbed. Serra writes: His bones were scattered; we collected them and buried them again. Either the gentiles or the wild animals had dug out the grave. Much water was thrown over the grave to harden the rocky soil. May his soul rest in heaven.
Gold!
One hundred and fourteen years later, to the day, gold was reported discovered along Arroyo Valladares. The San Diego Union on June 2, 1883, published that a nugget weighing sixteen ounces was found by Manuel Grijalva. An Ensenada newspaper, the Lower Californian, on April 12, 1888, published that an Italian named Marconi took out over $5,000 of gold in only two hours. The San Nicolas Mine, at Valladares, was active from 1890 to 1905. Another mine, named Bonanza was also being developed with investors from Germany and Mexico.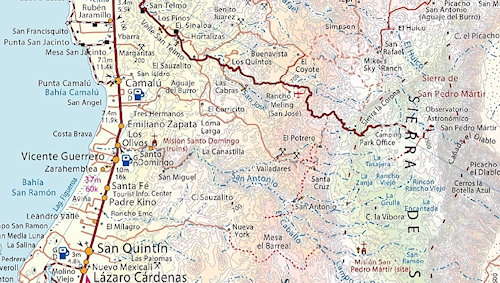 Books:
The 1956-1970 editions of the Lower California Guidebook by Peter Gerhard and Howard Gulick says only that Valladares is a ranch and gold mine, 33.5 miles from San Telmo. Other guidebooks seem to have totally ignored this remarkably interesting site. Historic details of Valladares are found in these three books: Gateway to Alta California by Harry Crosby (2003); The Call to California by Richard Pourade (1968); and Modest Fortunes, Mining in Northern Baja California by Donald Chaput, William Mason, and David Loperena (1992).
About David
David Kier is a veteran Baja traveler, author of 'Baja California - Land Of Missions' and co-author of 'Old Missions of the Californias'. Visit the Old Missions website.