Guadalupe Canyon Hot Springs
By David Kier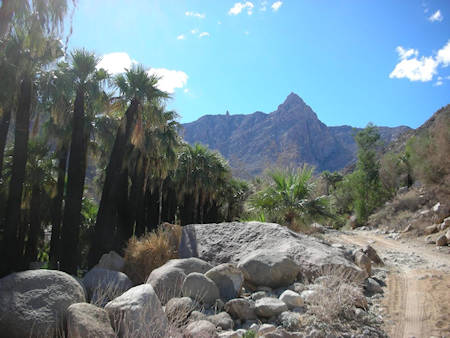 Guadalupe Canyon, southwest of Mexicali, is certainly one of Baja's most amazing natural wonders. Petroglyphs and pottery, found at the entrance to the canyon attest to its attraction for centuries. Hot springs are located in other canyons, but no other oasis canyon has been developed the way Guadalupe Canyon has been to accommodate visitors.
The Sierra Juárez mountains provide cool running streams, which have carved these canyons. The hot spring at Guadalupe Canyon, located on the north side of the canyon, produces an amazing 125,000 gallons of 125°F water daily. The hot water is then piped into several camping sites which each have their own small pool or tub, made from rocks and concrete. A palapa for shade and a table are also included. Some of the campsites offer complete privacy that allows you to really connect with the canyon.
Palm tree enthusiast, Randall Henderson learned about Guadalupe Canyon in the 1930s from a Mexican friend. Hot and cold running water and thousands of palm trees, including the exotic blue palm, Brahea armata, was all the info Henderson needed to make the journey. The story appears in the January 1946 edition of Desert Magazine.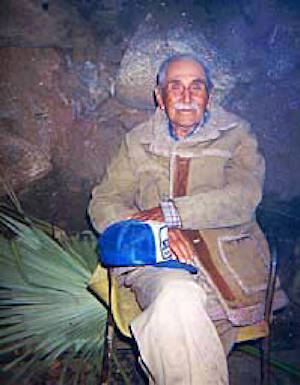 In 1940, José Loya Murillo (Don José) was searching for his cattle on horseback when he and his sons found the hot spring and beautiful palm oasis. These cattle ranchers soon discovered that bathing in the naturally heated water had healing benefits. Around 1958, at the age of sixty, Don José gave up ranching and began living in the canyon with his son, Angel. There, they built a few small hot tubs. Soaking in them regularly, took away the pain of his arthritis. Before then, only a few people came to the canyon as an hour-long hike had been necessary to reach the hot spring from the nearest road. By the early 1960s, the road was extended into the canyon. Camping, with rustic hot tubs, was now available.
Mystery author, and creator of Perry Mason, Erle Stanley Gardner, talked fondly of the time camping at Guadalupe Canyon in his 1968 Baja adventure book, Mexico's Magic Square. In a 1970 Desert Magazine story, we read that there are a dozen campsites and a charge of $2 per day with an endless supply of clean, hot water.
In the early 1980s, John Nelson, a swimming pool builder, discovered the canyon but he was not impressed with the few tubs and lack of privacy. Nelson convinced Don José to let his family build several private camps, each with a natural-appearing pool and piped-in hot water. Another of Don Jose's sons, Arturo, moved to the canyon to help with the expanding campground. An American named Rob Williams married Arturo's daughter, Isabel. 'Canyonman Rob' organized tours and reservations at the canyon.
In 1997, at the age of 99, Don José Loya died. Angel and Arturo were already operating the upper and lower campgrounds. John and his son Jordan Nelson, Canyonman Rob, and Jordan's friend Steve Schott continued to improve on Arturo's Campo. The many private, natural setting campsites, with palapas, were a big hit with everyone who came.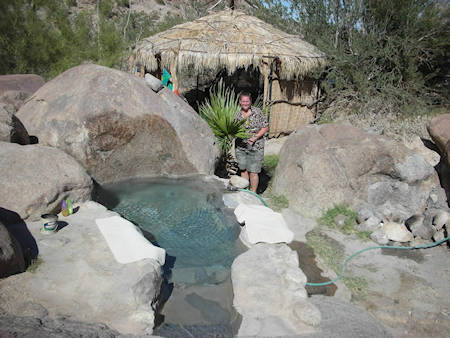 With the success of the campground, another of Don José's sons, José Jr., and his son Ernesto, wanted in on the action. They developed the opposite side of the canyon. More relatives, (Mario and Oscar) arrived. José Jr. then acquired the legal title to the canyon. Arturo and Angel moved away from the canyon with these changes. Arturo's side of the canyon was closed in 2009 during this reorganization. Today, not all of the campsites developed on Arturo's side have been reopened but a few are, and they are still beautiful.
I have camped many times at Guadalupe Canyon, beginning in 2001. They were some of the best camping experiences I have had in Baja. My wife Elizabeth has also considered Guadalupe Canyon one of the best places to enjoy the 'magic' of Baja California. After Arturo left, ending decades of his stewardship, we haven't returned, but I am looking forward to giving it a new try. I am sure those who have come to the canyon since are finding it just as special as I have. Campsite rates range from $40 to $125, and most sites can accommodate 2 or more families, to share the cost. Link to camp area maps.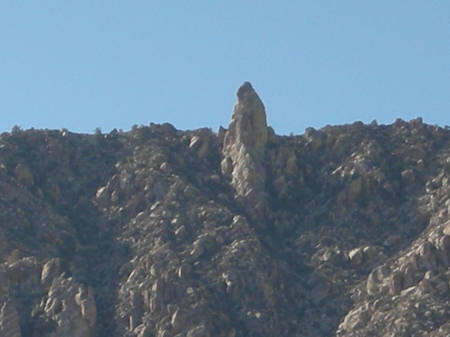 The directions are pretty simple: There are two choices of routes south from Highway #2-D. Each route is about 35 miles from the highway to the canyon. Going east from Tecate, beyond the bottom of the steep La Rumorosa Grade, is the signed exit for 'Cañon de Guadalupe' at Km. 28. This is the all-weather, graded-dirt road. The final few miles are steep and rocky and may be best driven slowly in an SUV or pickup. The second route is signed 'Laguna Salada' at Km. 24. This is the dry lake route. Avoid it following rains or if standing water is visible. This is typically the preferred route as it offers smoother driving before it joins with the graded road a few miles before entering the canyon. If driving west from Mexicali on the highway, a U-turn at the first opening west of Km. 24 is required for the dry lake route. Several signs are placed on the lakebed to assist with which path to take.
GPS DIRECTIONS TO GUADALUPE CANYON (WGS84)
Graded Road at Mexico #2: N32°34.33' W115°47.40'
Dry Lake Road at Mexico #2: N32°34.57' W115°44.67'
Junction Graded and Dry Lake Roads: N32°13.06' W115°42.29'
Entrance Guadalupe Campo #1: N32°09.40' W115°47.33'
*Reservations are required. Visit the website to reserve a campsite.
About David
David Kier is a veteran Baja traveler, author of 'Baja California - Land Of Missions' and co-author of 'Old Missions of the Californias'. Visit the Old Missions website.