Baja Fishing Report - Fall 2023
By Tom Gatch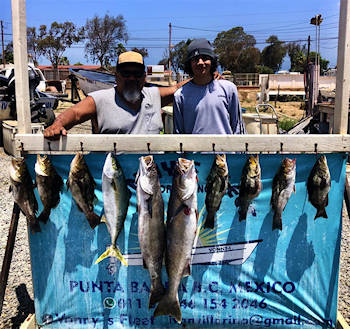 This past summer proved to be highly productive for anglers fishing in a wide variety of locations around the Baja California peninsula. And it was full of surprises as well; not the least of which was the arrival of Hurricane Hilary, which swept up the Pacific coast of Baja in late August.
This was an extremely unusual event, since most summer hurricane systems affecting Mexico at that time of year generally begin to lose most of their punch by the time that they reach the southern tip of the peninsula. The warm waters that are generated by these storms generally pushes up Baja's Pacific coast bringing with them a number of exotic species such as dorado and yellowfin tuna that then become available to anglers from central Baja all the way up into southern California who are awaiting their seasonal arrival.
Hilary, however, was much more aggressive and remained at hurricane status all the way up to Isla Cedros and Bahia Vizcaino before degenerating into a tropical storm. Fortunately, it then turned inland toward the Sea of Cortez, thus sparing the city of Ensenada, which had been anticipating a devastating assault from the system.
Nonetheless, the fishing after the passing of Hilary seems to now be even better than it has been in previous years, perhaps because she was able to travel so much further north than is normal for these southerly hurricanes. What ever the reason may be, however, I haven't heard any complaints so far from the anglers who are benefiting from this situation.
Ensenada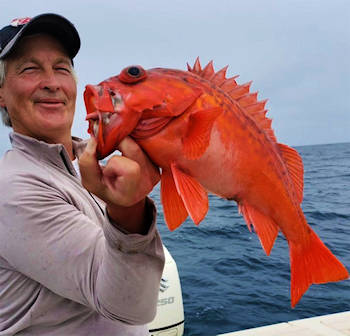 The post Labor Day inshore fishing around Ensenada has been solid for local species like calico bass, shallow water rockfish, and occasional white seabass, although there doesn't seem to be as many of the large, home-guard yellowtail that are usually taken off the tip of the Punta Banda peninsula this time of year. The fact that there had been so many bonito and barracuda taken in the region during the summer months may have had something to do with this by putting more pressure than usual on the local schools of baitfish that help to lure the wily forktails closer to the panga anglers fishing this area.
Offshore, the super panga charters that had been catching those big bluefin tuna over 100 pounds only about 15 miles off our coast earlier in the year are now traveling over 50 miles out to reach the traveling schools of yellowfin tuna and dorado that are moving north. Although it has required a longer boat ride to reach those exotic species swimming off our coast, the quality of the fish being caught more than makes up for the extended effort that is involved in targeting them.
Bahia San Quintin
Although occasional yellowtail are being caught by visiting anglers, most of the action off San Quintin has been provided by the massive numbers of bottom fish that abound in the local depths. Fat Pacific red snapper and big, toothy lingcod have been most prevalent, with a variety of smaller species such as olive rockfish, chuckleheads, and tree fish rounding out the catch.
Cedros Island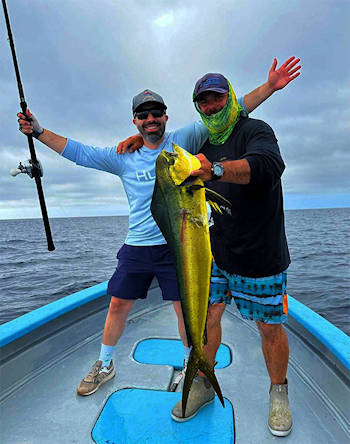 After the passing of Hilary, anglers visiting Isla Cedros have benefited greatly from the turnabout in weather and fishing conditions have been significant since they now have access to an even greater variety of species.
While the specific bite on any given day, anglers have been able to hook up with quality-grade dorado and yellowfin tuna in addition to the usual big home-guard yellowtail, white seabass, calico bass, and halibut that are regularly caught in the waters surrounding this anglers' paradise.
As an added bonus, there have also been plenty of live baitfish available, adding to the variety of species that can be successfully targeted.
Bahia Magdalena
Further south, the waters off of San Carlos and Magdalena Bay have been alive with plenty of dorado and yellowfin tuna for the anglers traveling offshore to pursue them. They have also enjoyed the bonus of being able to drop to the bottom for grouper in the 15 to 25 pound class.
Inside the Estero, inshore anglers have been connecting with a bevy of tasty gamefish that include cabrilla, corvina, halibut, small grouper, and an occasional big snook. If you have never been to this highly unique, out of the way fishing Mecca, you owe it to yourself to put it on your bucket list.
Los Cabos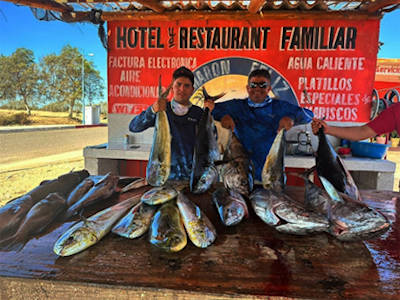 Checking in from Cabo San Lucas, Pisces Sportfishing reports, "It has been another fantastic week of fishing in Cabo! The yellowfin tuna continued to impress this week, with 162 fish being caught, including releases. The best part was that most of the tuna were in the 40 to 80 class. We also had one of 130 pounds landed on Pisces 31' Ruthless, which was our top boat for the past 3 consecutive weeks.
There were also lots of Dorado taken this week as well. 132 fish were caught including releases. There were quite a few decent sized fish too, some up to 35 pounds. The Billfish numbers still about the same, with 1 or two billfish being caught per boat. We have also had quite a few Blue Marlin in the mix as well.
We begin our report from Gordo Banks Pangas in San Jose del Cabo this time on a somber note in reporting the passing of owner, Eric Bricston. Over the past 38 years Eric had been a prominent pioneer of sport fishing in the area. He was an integral part of the local community, always lending a helping hand when and where it was needed. When it came to putting the outstanding fishing off La Playita 'on the map' Eric did it better than anybody else.
In regard to current local fishing conditions, his son, Brian Bricston, reports, "We are reaching the end of our hurricane season and even though it continues to be hot and extremely humid during the days, we are finally noticing cooler mornings at the marina. We are looking forward to cooler days as this summer has been hotter than usual. That said, we are starting to see larger crowds of fisherman as we are heading into our busy end of October/November season.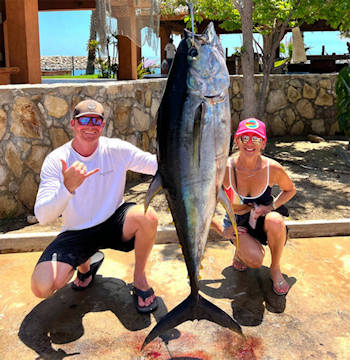 The primary target has been yellowfin tuna, most of them coming from Vinorama. It all depends on whether or not there was sufficient bait available on any given day to get them excited. Anglers were using mostly strips of squid and sardinas. There have been limited supplies of sardinas on some days, which can contribute to a slow day of fishing. There is a chance at a nicer tuna at Gordo Banks.
Most of these fish range from 20-60 pounds, while we have seen a few ones caught that were closer to 100 pounds. Some boats have reported seeing a few yellowfins over 150 pounds at the Gordo."
Brian concluded his comments by saying, "In between the tuna action, we continue to see some dorado and occasionally a few wahoo in the mix. We are expecting to see a few more wahoo as the water continues to cool off. There is also a chance at a nice Dogtooth snapper at the Gordo if you put in the time. We saw 6 this week, one being closer to 50 pounds."
La Paz
After being impacted by Hurricane Hilary, Jonathan Roldan at Tailhunter International in La Paz reports, "I think the big news this was wasn't just the fishing. It was the fact that we didn't have any surprise storms, tropical blows or…(shudder) hurricanes! One of the things we just have to live with is that the best fishing times are often when the weather is warmest. That is also when the heat gives birth to these crazy storms.
But, after a couple of weeks of these little "mini storms," we were all clear for once. Nothing but hot sunny skies and good looking water. I don't know how much that had to do with it, but it sure did not hurt the fishing.
We are also seeing our best dorado bite in almost 30 years with lots of the 10 to 15 pounders around as well as some big bulls weighing up to 40 pounds or more. Lately, we have had to work a little harder to find the dorado schools. I don't know. I hope it's not the end of the dorado season; there's no reason it should be. Conditions have not changed that I can detect. Luckily, we had some other species take up some of the slack.
As an example, we have just had the best run of tuna that we have seen in years. They started coming in about 2 weeks ago and it's been a bit up-and-down, but we've gotten tuna pretty much every day. These are a nice grade of fish too. These are not footballs. These are healthy chunky 20-40 pound sluggers with some bigger fish mixed in. Most of the bite has been just south of Bahia Muertos down the coast.
Another species that has been a surprise has been the recent appearance of roosterfish. I'm not sure how long this will last, but we can only hope. Normally, our big roosters are around in the spring from about April to late June. That's when the "hog" roosters are in the area. As the year goes on, they move off. We will get some 5 or 10 pounders later in the year, but that's it. Great fun on light tackle!"
Roldan concluded hopefully, "In the last 2 weeks, we've run into some chunky, early season roosterfish weighing up to about 80 pounds with others running in the 30 to 40 pound class! We have also had a showing of billfish lately including sailfish, striped marlin, and our first blue marlin of the season. There are still lots of bonito around, as well as inshore species like pargo, snapper, cabrilla and even some pompano and trevally."
Upper Cortez
Further up the Cortez coast, Loreto has been seeing a good yellowtail bite out near the island and anglers fishing the Midriff Islands off Bahia de Los Angeles on the local pangas have been scoring yellowtail up to 30 pounds on the surface and fat grouper and baquetta up to 60 pounds or more down near the rocky bottom.
Fortunately, we still have a few more months of quality fishing available around the Baja peninsula before the chilly weather begins to arrive in December. The best part is, the summer crowds are now gone and you don't have to worry about standing in line to book a capable captain to take you out to the fishing grounds.