Visionaries Develop Cape Region
By Greg Niemann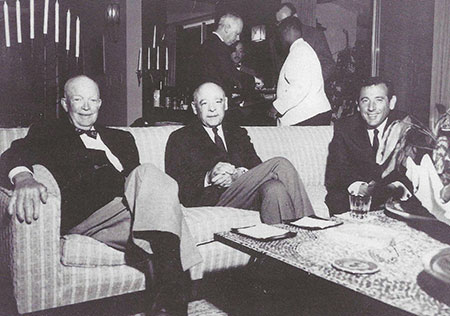 Until a handful of visionary pioneers nearly three-quarters of a century ago decided to invest in resorts near the tip of the Baja California peninsula, there had been little going on in the area since the Indians rebelled against the padres and the English and Dutch pirates waylaid Spanish galleons.
In fact, by 1950 Cabo San Lucas only had a population of 548, mostly fishermen and cannery workers. Even then the much larger town of San Jose del Cabo boasted fewer than 2,000 inhabitants.
The combined Los Cabos area today is a world-class resort area thanks to just a handful of these developers.
Two of the most significant were Abelardo "Rod" Rodriguez Jr. and William "Bud" Parr. In the late 1940s and early 1950s, these two, along with a couple others, Luis Coppola Bonillas and Luis Bulnes, began buying land from small ranches.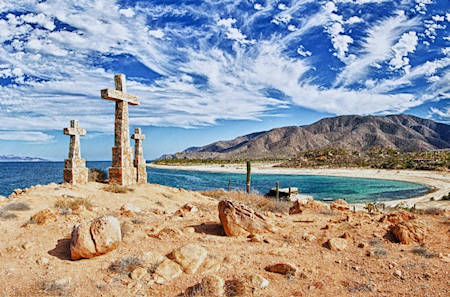 Among them, the four men either independently or as partners, would build six hotels or resorts: Los Arcos in La Paz, Club Rancho Las Cruces on the gulf east of La Paz, and farther south, the hotels Palmilla, Cabo San Lucas, Hacienda, Finisterra, and the Solmar.
The first resort in Baja California Sur was built in 1950 by Rodriguez and Parr. The Club Rancho Las Cruces was a fly-in private hunting and fishing resort on the gulf about 24 miles due east of La Paz. While there is a road to Las Cruces, for years it was not very good and once I had to turn a small rental car around before reaching the place.
Had the little car made it, upon arrival on the hill overlooking the resort I would have found three restored cruces (crosses) which signify the area as the probable landing site of Hernan Cortes in 1535.
The remote location was selected by former U.S. pilot "Rod' Rodriguez, son of Mexican President Abelardo L. Rodriguez (1932-34). Rodriguez had bought the former orchard property in 1948. He was joined by an American, Bud Parr. Parr served in WWII, came to La Paz in 1947 to "retire," met Rodriguez, and the rest is roughly the history of the cape region.
Rancho Las Cruces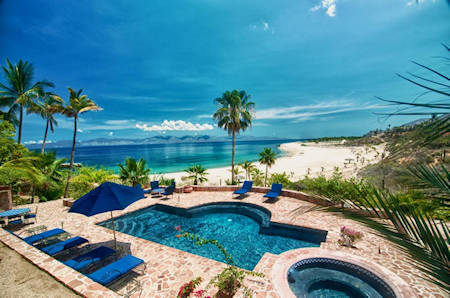 Their first project, Rancho Las Cruces, was so exclusive that membership rosters read like a social register. Former President Dwight D. Eisenhower, Desi Arnaz, Bob Hope and Bing Crosby were among the members, many luminaries enjoying ownership interests. In fact, when Parr later sold his interest in the Las Cruces, he sold it to Bing Crosby who was a very frequent guest.
They built a swimming pool, tennis courts, driving range, and ultra-modern bungalows set in a palm oasis. Early in its history, the Las Cruces became a hotel but shortly went back to being a private resort. The Las Cruces is still an exclusive membership-only resort with seven miles of secluded coastline, and 10,000 acres of private land.
Legendary Hotel Palmilla
The pioneers did not sit still. In 1956 Rodriguez and Parr opened the Hotel Palmilla, just a few miles south of the town of San Jose Del Cabo. Still in existence and considered as one of the most beautiful cape resorts, today the renamed One & Only Palmilla is old world charm in a spectacular setting.
Sprawling on an ocean point among 900 acres thick with palm trees, hibiscus, multi-colored bougainvillea, ferns, bamboo, and tinkling fountains, the Palmilla has all the amenities one could think of: 4,500-foot air strip, wedding chapel, tennis and croquet courts, horse stables, its own sportfishing fleet and private beach, and of course, swimming pool, restaurant and bar. The Palmilla also boasts a 27-hole Jack Nicklaus-designed golf course with spectacular views of the Sea of Cortez from almost every hole.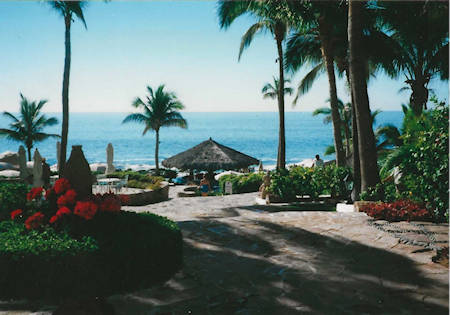 Built by Rodriguez and Parr as an exclusive resort for international sportsmen, the Palmilla quickly became a secret hideaway for Hollywood celebrities.
The Spanish colonial style accommodations, which offer large air-conditioned rooms and suites, peek through tropical vegetation behind meandering cobbled walkways.
On the drive from the highway into the Palmilla, you pass through the Villas del Mar, a planned resort community for 1,300 residential units, from the mountainside casitas "Las Buganvillas" to "Las Villas," private beach-front residences.
Grace and elegance are understated throughout the One & Only Palmilla. I walked through a small forest of king palms, their bright shiny-green trunks setting them off from all their cousin palms. I reached the chapel, which rests serenely atop a small palm-covered knoll and reveled in my tropical surroundings. The Palmilla underwent a $13 million renovation during 1996, which included the addition of 62 spacious oceanfront suites. In ensuing years, more rooms were added on the north side of the property.
I was glad to see that the Palmilla has never lost its charm even though it had changed owners. The five-star One & Only Palmilla resort hotel early on was managed by Rockresorts and is today run by Lartisien Grand Luxury Hotels.
Both Parr and Rodriguez looked even farther south for their next ventures, the little village on the cape where there was a small fish packing plant and little else. Their next enterprises would forever change Cabo San Lucas. They opened the Hotel Cabo San Lucas in 1961, and the Hacienda Hotel near the old cannery downtown in 1963.
Luis Coppola Bonillas and Luis Bulnes were also busy and the four pioneers were instrumental in the other major resorts that opened in the Cape area during the 1970s: (Mar de Cortez, 1972; Finisterra, 1972; Solmar, 1977; and the Twin Dolphin, 1977), and today's Los Cabos grew up around them.
The first few resorts in the Cape region were either fishing resorts or ultra-exclusive fly-in places, so the addition of those several hotels during the late 1960s and early 1970s created the boom that would attract vacationers from around the world.
Rancho Leonero – 1967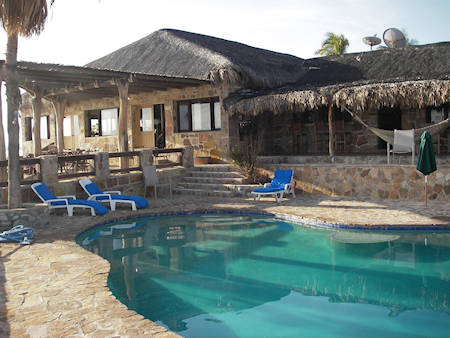 While those pioneers were setting their sights south to what has become known as "Los Cabos," several others were developing fishing resorts up on the East Cape (Rancho Leonero and Punta Pescadero, both opening in the late 1960s).
In 1950 wildlife cinematographer Gil Powell, a relation of actor William Powell, bought 300 beachfront acres on the East Cape to the south of Rancho Buena Vista.
As he was always going off to Africa to shoot movies, the locals called him El Leonero (one who knows lions). His ranch, which he opened in 1967, became known as Rancho El Leonero, and later Rancho Leonero.
Powell enjoyed hosting his Hollywood friends who used to fly in for fishing and relaxation. John Wayne, Bing Crosby, and Errol Flynn were guests at Rancho Leonero. Powell died in 1974 and the property languished.
Long-time owner John Ireland discovered it in 1979, finally purchased it in 1981, built five original rooms and opened the Inn at Rancho Leonero in 1986. Powell's old ranch itself had become the bar and office of the current resort.
In 1990 six additional rooms were added and the following year, a swimming pool. In 1992 the original six bungalows were finished. I found the resort a well-manicured delight. There are currently 34 rooms in picturesque bungalows, most overlooking the sparkling sea.
Children splashed in the pool while I noted others snorkeling in the reef out front. Like many of the fishing resorts on the East Cape, Rancho Leonero regularly draws families to the area.
After 42 plus years of hosting hundreds of families, John Ireland retired in March 2023, and ONE Development Group of Monterrey, Mexico acquired the property.
Punta Pescadero – 1968
One of the most remote of the East Cape resorts is Hotel Punta Pescadero on a point of the same name about 10 miles north of Los Barriles. The most northern of the East Cape hotels, it was established in 1968 by Johnny Mitre and George Escudero who had earlier built the Bahia de Palmas.
It's about a 1½ to 2-hour drive from either the Los Cabos or the La Paz airports, but there is a 3,500-foot airstrip runway for private planes with concrete run-up pads and tie downs right at Punta Pescadero.
Today the Punta Pescadero Resort is a luxury resort in a charming tropical setting replete with coconut palms and vibrant flora. Along with a broad beach, the resort features a swimming pool, tennis courts, restaurant, bar, pool table, and air-conditioned suites with terraces overlooking the sea.
Peaceful and restful best describes this small resort, whose name translates to "Fisherman's Point." There are 21 suite-sized rooms all with cable TV, wood-burning fireplaces, minibars, private patios, and spectacular views. Some of the suites have private steps down to the beach.
Those few early Baja California Sur hotels and resorts have not only endured, but transformed the entire area into an international destination. It all started with a few visionary men in the 1950s and '60s. Of course, the engaging and sparkling ocean, spectacular mountain scenery, and warm balmy days abetted the appeal of Baja's cape region.
About Greg
Greg Niemann, a long-time Baja writer, is the author of Baja Fever, Baja Legends, Palm Springs Legends, Las Vegas Legends, and Big Brown: The Untold Story of UPS. Visit www.gregniemann.com.