Pirates in Baja California
By David Kier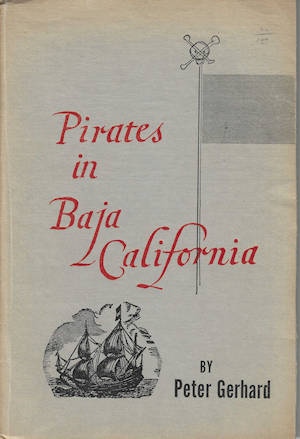 In 1963, Peter Gerhard published an eleven page report about treasure-seeking pirates that attacked Spanish ships from their hiding places along the Baja California coast. Five hundred copies were printed. My copy was previously owned by that famous Baja wall-map creator and book author, Mike McMahan. Books like these are my treasures!
Peter Gerhard was the historian and co-author, with Howard Gulick, on the Lower California Guidebook. He tells us very few events in the history of Baja California can be attributed to pirates. The term pichilingues was applied to illicit foreign pearlers, as well as pirates, privateers, and buccaneers. The word Pichilingue was derived from the name of a Dutch pirate port, Vlissingen.
A pirate would be known as a privateer if the pirate's country was at war with Spain. Privateers had a legal commission to attack an enemy ship or port. They were the mercenaries of the sea. Buccaneers were originally French settlers in the Caribbean, hired by France and England, to attack Spanish ships.
Thomas Cavendish was an English privateer when he captured the Manila Galleon, Santa Ana. This was after he came to Cabo San Lucas, on October 24, 1587. The Santa Ana had no cannons to defend herself and was easily overtaken by Cavendish with his two smaller ships. Over thirty-seven kilos of gold and whatever else Cavendish wanted, and could carry away, was his. All future Manila galleons were supplied with a cannon and ordered to stay away from Baja California's coast.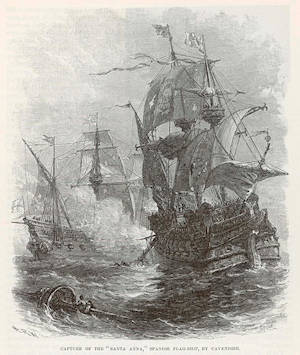 The next one-hundred years saw many reports that were sent to Spain about pirates lying in wait. Escort ships were sent to Cabo San Lucas or Isla Cedros. That seemed to work! Even when many buccaneers arrived from the Caribbean in 1684, no galleons were lost to the sea thieves.
In 1688, French buccaneers found shelter near La Paz in the snug little harbor forever named after them, 'Pichilingue'. From there, these buccaneers sailed across the gulf and raided Spanish ports, including Acaponeta. There, they took hostages, including the mayor, his family, two priests, and forty women! The French pirates demanded a ransom. This action so enraged the Spanish viceroy that he sent a warship with 143 men under the command of Antonio de Mendoza. A sea battle lasting four hours failed to resolve the demands. When nighttime ended that engagement, the buccaneers went to their old base on the Islas Tres Marías to prepare for new engagements. Months passed, some captives were beheaded, and the remaining prisoners were set ashore. The pirate ship sailed south to Peru and continued raiding and adding to their treasure collecting.
In 1690, these same buccaneers returned to Baja California's Pichilingue harbor and conducted raids once again on the Mexican mainland coast. The Spanish Armada found the Islas Tres Marías hiding base and destroyed it in January of 1691. The last time these buccaneers were seen in Baja California was on March 6, 1691, when they sailed away from Cabo San Lucas after spending a week among the friendly Indians there and refilling their water casks.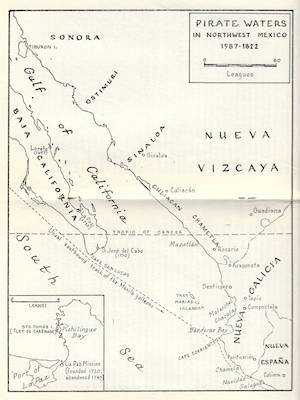 In 1709, an English privateer, Woodes Rogers had intended to seize a treasure laden Spanish ship as it passed near Cabo San Lucas. Rogers' pilot was William Dampier who had success (and later failure) back in 1704, off the Mexican coast. The viceroy learned of Rogers' goals and ordered all available ships to escort the galleons, that even including a Jesuit supply ship. Not one ship fulfilled the mandate. Rogers arrived at San Lucas on November 12 undetected. With friendly Indians who had not yet been converted, he lay in wait. On January 1, 1710, the galleon La Encarnación, with rich cargo worth two million pesos, was captured. Rogers tried again, four days later on a second galleon. This time, the English were not so lucky. They left San Lucas and set sail for Asia, on January 21.
In August 1721, an English privateer, turned pirate named George Shelvocke, called at San Lucas for a week before his crossing the Pacific Ocean to China. Before arriving to Baja California, Shelvocke took several Spanish ships off the Mexican coast prior to his crossing the gulf to Baja California.
In late 1746, a Dutch merchant ship sailing east from Batavia (Jakarta today) with a crew suffering with scurvy stopped at Mission San José del Cabo. There, they were cared for by the German-Jesuit Padre Karl Neumayer. The Dutch crew remained in his care over a month before sailing on to Mexico where they were considered pirates and treated badly by Spanish officials.
Peter Gerhard's thin book is really a wealth of information containing even more events, notes, and a map; indeed a 'pirate's treasure'!