California: Island or Peninsula?
By David Kier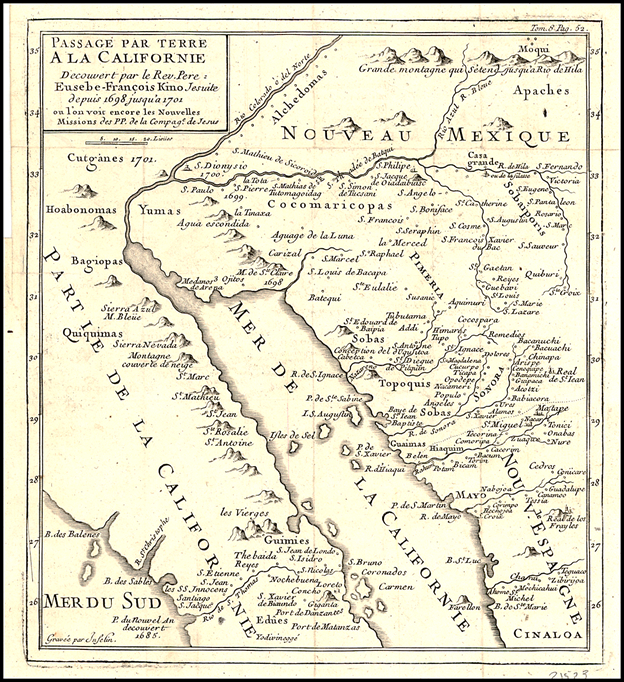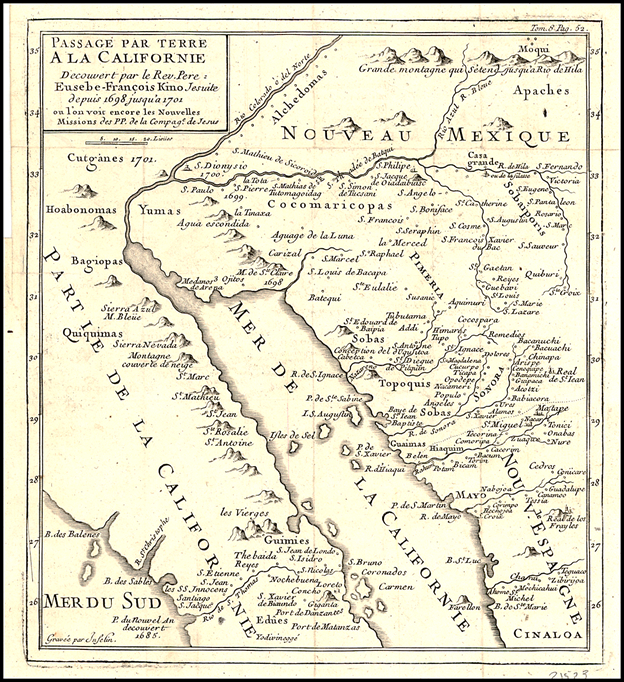 Kino's 1701 map includes the missions of Loreto and San Javier
as well as Kino's San Bruno site and his Colorado River visit.
Click image to enlarge
Establishing missions, baptizing Natives, and teaching how to farm the rugged land were not the only tasks of the Baja California padres. They were also seeking new locations to build future missions and complete the conquest of California, for God and King. Another purpose of the California missions was to establish a west coast port for the Manila Galleon to provide the ship's crew with fresh food and water. Scurvy and starvation were a real threat to the sailors after their long journey from Asia to Acapulco.
European cartographers and Spanish officials believed California was an island, as envisioned in the popular novel Las sergas de Esplandián. Hernán Cortés first tried to colonize California, arriving at La Paz himself in 1535. Cortés later sent Francisco de Ulloa up the coast of Mexico to see how far north this land went.
1539: Ulloa and his three ships reached the Colorado Delta then came south along the California Coast to Cabo San Lucas and north again over halfway up the peninsula. Not an island! The next year, Hernando de Alarcón traveled by ship and Melchior Díaz traveled by land. Both were to reach the Colorado River in hopes of resupplying the Coronado expedition.
1541: Melchior Díaz crossed the Colorado River into California. This land was not an island!
When the Jesuits, led by Padre Eusebio Kino, sought to bring Christianity to the California Indians in 1683. They learned how treacherous the Gulf of California was. Their colonies at La Paz and San Bruno failed. In 1697, a permanent mission was finally established at Loreto by Padre Juan Salvatierra. Padre Kino was attending missions on the mainland. He also explored to the Colorado River to secure a land route to supply the missions in California. Loreto's Padre Salvatierra even joined Kino on one of the mainland expeditions, it was that important to the Jesuits.
1701: Kino and Salvatierra traveled north together and saw California at the Colorado River. They too discovered California was not an island. Kino's maps no longer showed California as an island.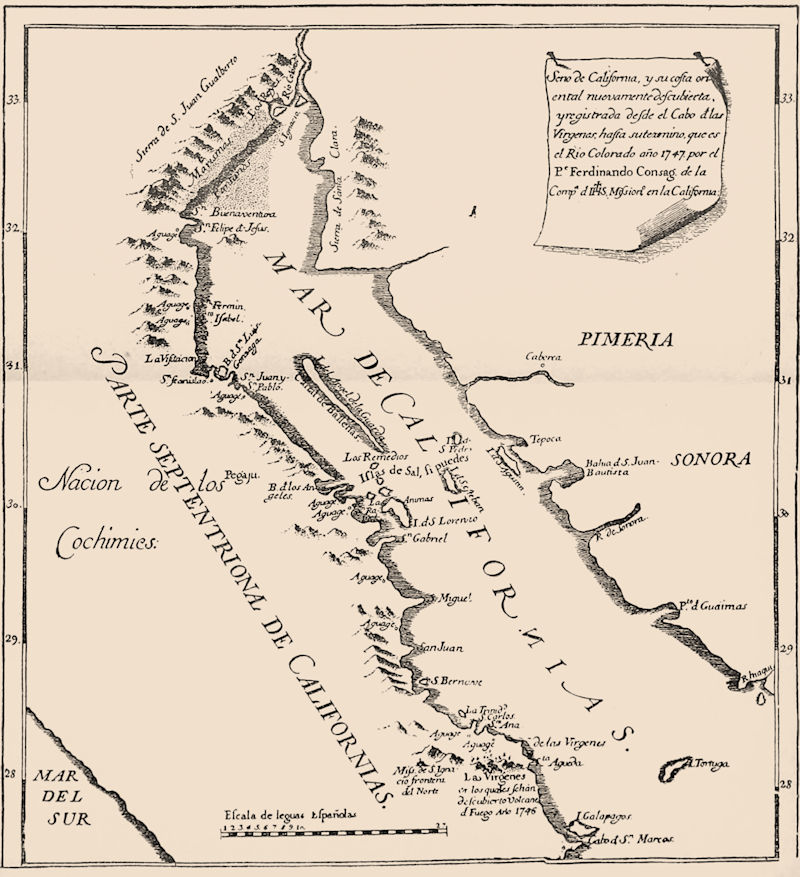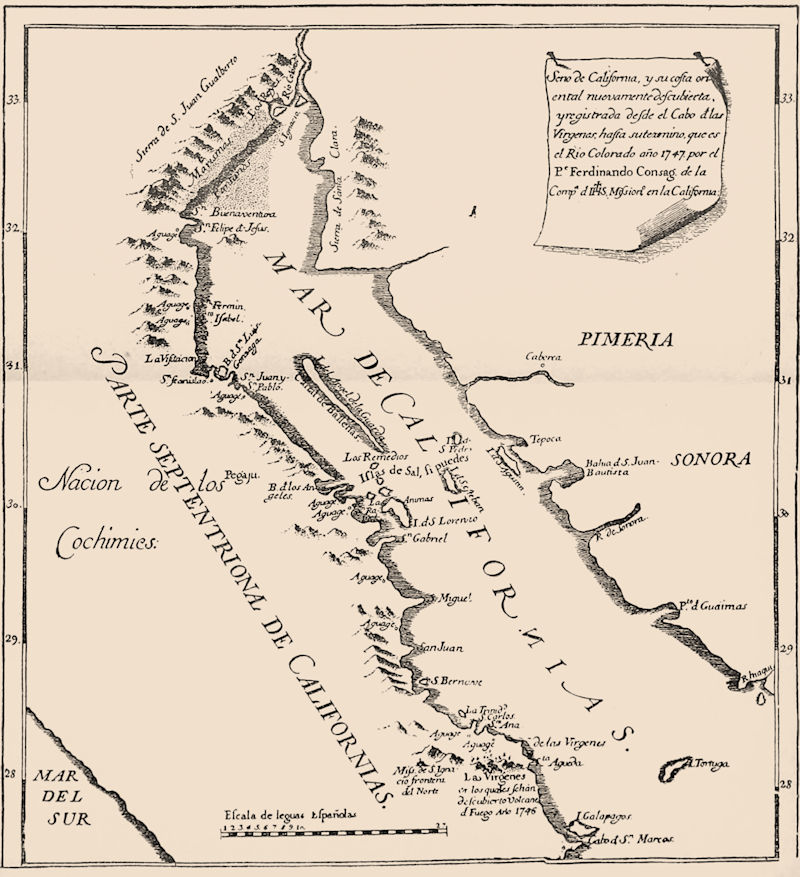 Consag's 1747 map includes Mission San Ignacio, the eruption of Tres Virgenes volcano the year before, and his named bays of Los Angeles, San Luis Gonzaga, and San Felipe (de Jesus).
Click image to enlarge
1721: After losing many (poorly made) ships crossing the gulf, Padre Juan de Ugarte of Mission San Javier had lumber cut on the mountain range northwest of Mulegé in order to build a better ship for the Jesuits' needs. His ship, El Triunfo de la Cruz, sailed north into the head of the gulf, and proved again California was a peninsula. Alas, European-made maps still showed California was an island.
1746: San Ignacio had been the northernmost mission for almost 20 years when Padre Fernando Consag and his little fleet of sailing canoes set out seeking new mission sites, and yes, again to make sure that California was connected to the mainland. Consag's 1747 map was widely circulated and copied. His journey and discoveries were well documented. He provides many names we use to this day; Bahía de los Angeles, Bahía San Luis Gonzaga, Punta San Fermin, and San Felipe among them. Consag's canoe trip diary starts on page 46. The Jesuits finally directed that future missions be established in the north so that they could communicate by land to their mainland missions.
1766: Twenty more years would pass, and the missions of Santa Gertrudis and San Borja were founded north of San Ignacio. However, the ability of land travel to the mainland was still in question. There was even talk that California could be an island! Padre Wenceslaus Linck of Mission San Borja set out on a great overland expedition to find a route to the Colorado River and potential mission sites along the way.
Linck would discover places like Laguna Chapala, Agua Dulce, Velicatá (the future site of Mission San Fernando), San Juan de Dios, Agua Caliente hot spring canyon, and the base of Diablo Mountain, where Linck ended the march north. He could see the far off delta, but the horses and mules could go no further. Their shoes were worn and any sources of water beyond were unknown. On the return trip to San Borja, Linck discovered Calamajué with its running stream and it became another future mission site.
Shortly after establishing their mission of Santa María de los Angeles in 1767, the entire Jesuit Order was removed from the Western Hemisphere by order of the King. Their efforts and discoveries had shaped events in California (Baja and Alta) for all time. The Franciscan Order was sent to Loreto to replace the Jesuits. A year later, Junípero Serra led the Franciscans to Alta California. He used Linck's diary and establishing their first mission at Velicatá before traveling on to San Diego.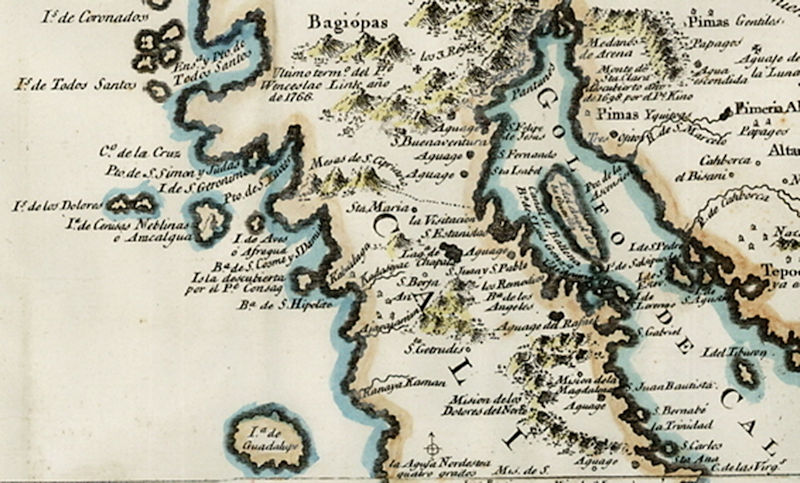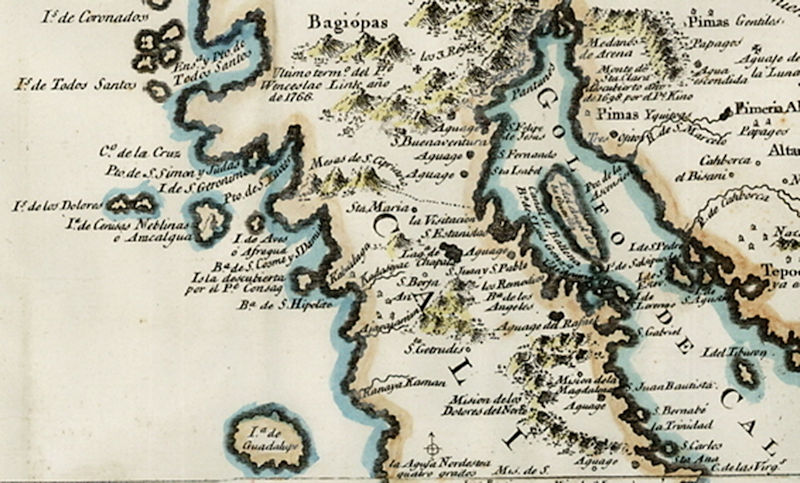 This 1768 map mentions Linck's 1766 exploration, Laguna Chapala,
and the new Mission Santa María.
Click image to enlarge
The explorations by the Jesuits made the Spanish expansion into Alta California possible and ended the myth of California being an island.
About David
David Kier is a veteran Baja traveler, author of 'Baja California - Land Of Missions' and co-author of 'Old Missions of the Californias'. Visit the Old Missions website.