Whale Magic Tours
Extraordinary Tales of Humans & Whales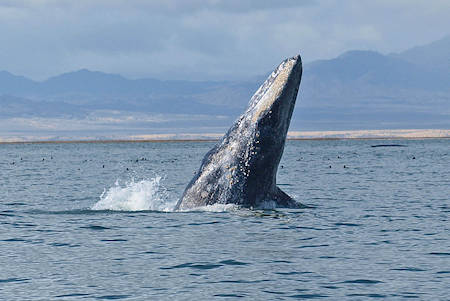 Years ago Shari Bondy and I sat on her patio in Bahia Ascunsion overlooking the sparkling Pacific. She was telling me how she had made her way from the far north all the way south to Baja California Sur. It was an incredible adventure story, which included how her life was saved by two whales during a hurricane in the Gulf of Tehuantepec. I was spellbound and shared that my experience of listening to her story transported me in a kind of magical way that seemed more fantasy than reality. Thinking out loud I expressed my feelings that Whale Magic would be a perfect name for the tours she hoped to lead. Her intention was to share with people what the whales have taught her and give people a more intimate experience in meeting them. She knew she could provide people with insights and life changing experiences. She operates in Laguna Ojo de Liebre which began what is now a very popular destination to these gentle giants each year and reservations are required well in advance.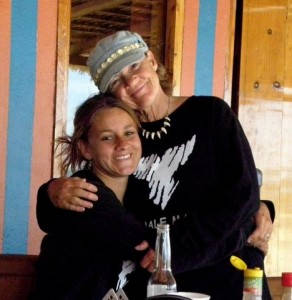 The way that her daughter Sirena came into being was the stuff of which movies are made. Today, Shari's website shares that her daughter was conceived and raised in the company of whales. Mother's pride describes her daughter now as "a magnificent guide in her own right!" Sirena grew up with the whales and she runs the remote whale camp. "Sirena and I have seen and experienced things most people only dream about. Over the years and thousands of hours on the water among the whales, we have learned firsthand about their life. We have witnessed countless extraordinary encounters between humans and whales. It is with great pleasure we share these tales and whale knowledge with our guests on our personally guided trips." Shari has a total of 40 years of being a naturalist and guide having studied whales from British Columbia to Baja California.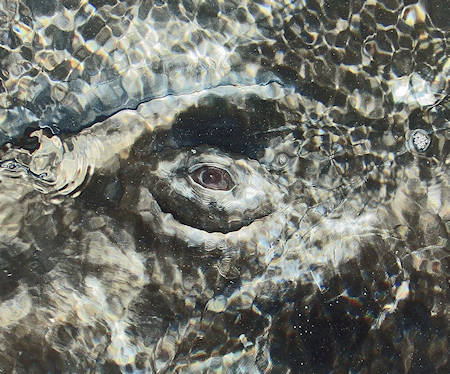 A storyteller in her own right, her words beckon us into her world, "Lagoon magic is very real to me. Gazing into the eye of a whale is humbling, a life changing encounter you will never forget!" Whale Magic Tours take intimate groups out "to make friends with the mothers and their babies." In her experience she tells people to be prepared to see the gray whales very close. Close enough to touch them and there are many stories from excited travelers of even being able to kiss them. Many years ago, my own encounter was thrilling. It was a rough and windy day. I was bundled up and not at all sea worthy, but when I spotted the immense creature headed our way, all discomfort disappeared. The mother brought her two-ton baby to the boat and it playfully blew water at us. We laughed and the children squealed with delight. There was no doubt in my mind when the baby aimed another blowing spray at us; it wanted to make us laugh. I experienced this baby bridging the interspecies gape by letting us know it saw us too and liked to play.
Visitors hear Shari spin the historic tales when the magnificent creatures were hunted and the lagoon was red with their blood. It was only a generation ago when fishermen were terrified of the "devil fish," because of the stories of their boats being capsized. It took decades before the fishermen could see the benefits of caring for them as sustainable ecotourism. "The lure of cash in pocket inspired the fishermen to overcome their fears. In time, the fishermen and whales forged a new relationship of trust and respect. We are honored that the whales allow us to be with them in their nursery. We are witness to mothers teaching their babies about humans and boats." Shari advises that every trip is different depending on the time of year, weather and "mood of the whales." Yes, whales get moody too. Just imagine carrying around a 15 foot baby in your belly. Guides have learned it isn't a good idea to sneak up on a sleeping whale as it is likely it would hump up and throw its flukes high in order to dive deep to avoid the nuisance.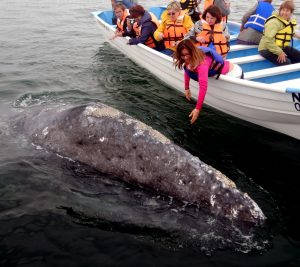 There is a delicate art to whale watching which Shari advocates, "When an enormous whale glides over to your small panga...the sheer size, beauty and grace is awe inspiring; one needs to appreciate that whales are wild animals and are not there to entertain you. It is a privilege to be able to be in their nursery while they are busy raising their calves and extremely important to treat them with respect and caution." There is even more mysteries being revealed as whales are studied in their natural habitat. She shares one of her many experiences, "A friendly whale will swim over to, or around the boat to "read" the situation then decide to approach closer or not. They often pass under the panga or glide sideways looking up at you. They can perceive if someone is afraid and may keep a respectful distance so as not to frighten anyone, but if everyone welcomes a visit, the whale may raise up its mighty head to meet your touch." Shari laughs and says that people want most to hear the amazing stories of encounters between the whales and those on her tours. She is completing her book, Extraordinary Tales of Humans & Whales, that will fulfill thousands of those requests in a spellbinding way.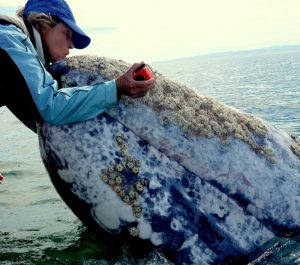 Shari is doing what she was truly called to do, "For me as a naturalist guide, it is always exciting to see people's reaction the first time they get personal with a wild whale. Some laugh uncontrollably, some cry, most are awestruck. It is difficult to process at the time what has happened in that couple hours communing with whales as it is so overwhelming. It is something you never get tired of as each trip out is completely different. Watching mating and the mother whales raising their babies to the surface for their first breath is truly a moving experience. Whales have a way of making everything all right. It may be cloudy, cold, and windy or perhaps a couple is arguing, or someone is in a very bad mood…but when a whale swims up to your boat and greets you with love, they turn even the hardest hearts to marshmallow. The miserable ones are grinning, the arguing couple is holding hands, the sick feel better, and the fearful and doubtful people are awe inspired. The whales have cast their spell for what happens when a person gazes into the giant eye of a whale is nothing short of magical."
For the supreme magical experience whale-watchers will need to make reservations well in advance. Think of having your own private island with a small group of intimate friends, with study glamping tents already set up for you and where you are surrounded on three sides by water. You will be entertained by whales all day and under a star-studded evening sky you will hear their gentle blowing sounds in the deep peace of wild nature. This opportunity is truly an experience of a lifetime when fantasy actually becomes reality.
Martina's email: mteomaya(at)gmail.com