The Sand Man Mystery
By Martina
Photos by Martina and Jim Glynn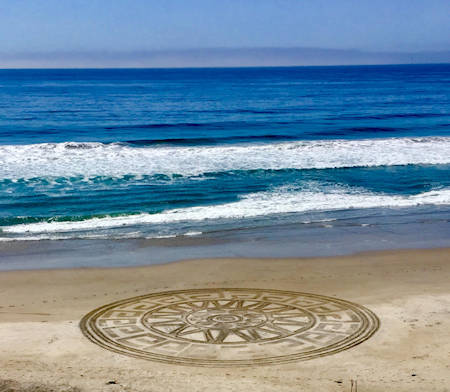 The music of a strolling minstrel plays across the sunlit patio of the iconic La Fonda Restaurant. Dmytri's La Fonda is a favorite tourist destination as well as a go to place for the locals. There has always been a feeling of mystery here on this patio overlooking the Pacific. It was visited long ago by the Hollywood stars. One could conjure many evening dreamscapes with candlelight, and the fat moon hanging above the sparkling sea. La Fonda began to really shine when Dmytri and Sara bought it decades ago. On this pristine morning with a rich Mexican coffee to savor, it was like being on a movie set. Today was one of those dream days.
As I sat waiting for my order to arrive, I glanced down to the sandy beach below and was flabbergasted by what I saw. It was as if an alien ship had created a flawless "crop circle" in the sand. The circle and design within it were perfect in every way. I just couldn't believe my eyes. No one was around tending the art form, but I knew there was a story waiting to reveal itself. Walking toward me was a dark man of average height, his skin almost leathery from the sun. He paused at each table, holding out a tin can collecting tips from the guests. He was the artist and the story. We all wanted to know how he created such precision with a rake, stick and a shovel. I love it when a story walks right up to my table. His name was Rama and I requested an interview for the following day. He was pleased by the invitation, and then took his leave saying he had to get back to the beach to continue the expansion of the circle he had started.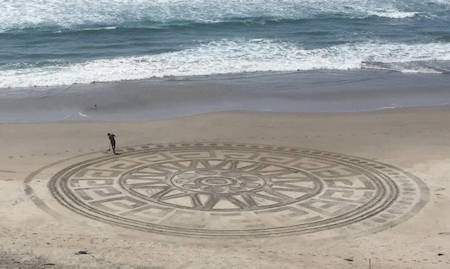 Looking down from the patio he was a tiny figure next to the inner circle. I watched, amazed at what I was seeing. He did not measure. He simply began to walk swiftly around the outer circumference with the rake, and began a new pattern at the outer edge. He then went back into the design with the stick and the shovel to give detail and definition. My mind could not register the ease with which he created the ever expanding circumference. He worked against the advancing tide. I contemplated how unattached he was to losing his creation, a quality that most of us might find difficult - letting go of something beautiful we have created. The mystery deepened. My mind turned to the memories of reading Carlos Castaneda and his books about Don Juan. The fog began to roll in making the scene ever more mystical. As I was leaving I knew what I was seeing today would be gone tomorrow.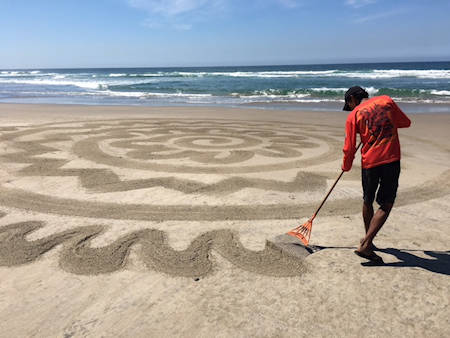 The next day Rama was busy with a new pattern. The weather was clear and gorgeous. He was finishing up an outline of a gigantic fish, appearing to have washed up on shore. It lay next to yet another unbelievable sand circle. He came up to collect tips from the astounded breakfast guests and then he sat down to reveal his story. Rama Morales came to Baja from Sonora. Right away I linked that with the Yaki Indians and Don Juan's escapades. The storyteller in me can't help myself. We all have a story to share. Stories when told do more than inform us, they can inspire us and the words can also set a tone that can be felt. Rama held a story far beyond what I can recount; yet leaving the mystery in a story can be luscious.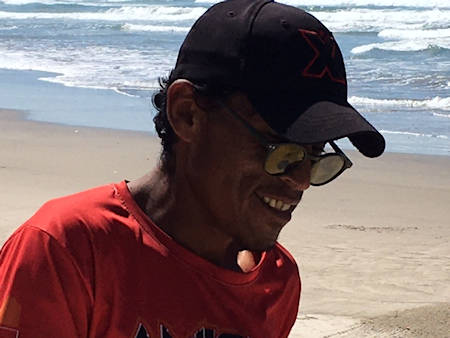 Rama, 26, came to Baja two years ago leaving his family of Mayo Indian artists, going all the way back to his great grandfather who developed his craft from the organics of the land. However, the sand art of Rama is his original idea and designs emerging from his mind. One of the questions everyone had was how could he be so precise when he didn't measure? As if it was nothing unusual he grinned and pointed to his feet, he mimed his stride, which did the measuring. I still questioned how he worked so swiftly, never stopping as the design apparently flowed from his mind to the rake and into the sand without reserve. Maybe his explanation was true, but I suspected there was something a little more mystical going on. Most artists would not have a problem confirming that there is a muse which creates, and which is difficult to describe. For now he is camping while he does his beach art and it appears that most guests of La Fonda gladly gifted his tip jar.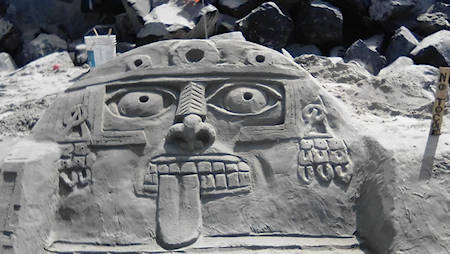 He is making no plans at this time as he is quite seriously governed by weather and tides. Rama has a number of unique ideas about how to utilize his art. For a beach wedding, he could create something for the bride and groom, or create a design for someone's garden. You can reach Rama by email: moralesrama770(at)gmail.com and if you have limited Spanish it is best to use a translator to help the communication. When you are in the neighborhood, visit La Fonda at low tide and be prepared to be amazed.
Martina's email: mteomaya(at)gmail.com