Fat Cat!
By Martina
If delicious, over the top offerings for breakfast and lunch are your thing, then welcome to the foodie paradise called Fat Cat. To truly appreciate a meal here, you need to have a huge appetite for home cooking. It's less than an hour from the border, and has moved to a new location in midtown Rosarito. Opening the front door, fragrant aromas float out to greet you and you will already know that something special awaiting. You are immediately welcomed and shown to your seat. Private nooks for dining are thoughtfully arranged. It can be busy late morning and if it is your first visit, very soon you will understand why this is so.
Fat Cat owners, Robert and Laura love Baja California and so their vision to live full time had to include creating a business. Robert is the passion behind the enormous portions and Laura tests her creative ideas on Robert for a little adjustment this way or that, however, she is the magician behind all the recipes. He placed in front of me a humongous cinnamon roll slathered with creamy icing and says, "This is a small one." At the moment he isn't busy and I ask how he ended up being a baker in Baja. While he talks, I cut into the gooey center of the roll. One bite and I am transported into a childhood memory as my mom pulls her award winning sweet rolls out of the oven. This is the first time I've experienced anything that could compare with this memory.
"I first came down to surf when I was 14. Friends and I would ride down to all of the best places to surf along the coast. Later I would go all the way to Cabo San Lucas to dive the shipwrecks there. I even entered the 2009 Baja 500 off-road race and won first place." And while living and working in California, he had a 12 year career as a firefighter in San Bernardino. Like many people who have had a long relationship with Baja California, he carried his Baja dreams and Fat Cat is one that has been realized. Laura joins us and tells of her growing up in Tampico, Mexico and meeting Robert in Baja in 2006. Laura fell in love with the art of cooking at a when she was very young. "I grew up smelling the wonderful spicy aromas and my grandmother cooked very unique Mexican food. My mother loved to create delicious pastries and rich desserts." After meeting Robert I began learning how to cook American food." Laura continues to branch out creating new recipes for Fat Cat where she combines her knowledge of the right combination of flavors with very good ingredients for which Fat Cat is well known.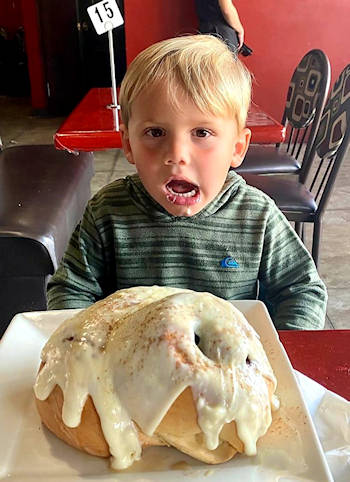 Robert urged me to try several of the other wonders of creation, even though I knew they would be taken home for my inability to finish each dish. He suggested the German pancake, which has quite a different concoction than we think of as a pancake. It is a thick egg base, baked and garnished with fresh strawberries. As is traditional in Germany, they do not use syrup; instead sprinkle it with lemon juice. This was accompanied with a side of thick smoky bacon and fat sausages that ran juicy when cut into. "We serve only the best ingredients including Mexican free range chicken eggs. I was really startled the first time I broke an egg open as the yoke was a vivid golden-orange. I learned this is what real eggs are supposed to look like when the hens are happy, foraging and eating insects, rather than sadly caged. We go through 1,300 eggs on a busy Sunday." Robert insisted I try a pumpkin pancake, "I thought it would be just a seasonal offering, but it is so popular we will be leaving it on the menu. We make our pancakes with real buttermilk just like grandma's and we go through 4 cases of butter per week." You'll have to try the triple chocolate pancakes! I had to say no, please. Just looking at them could ruin a diet. I watch a platter of the house special go by, a Fat Cat favorite, Apple pancakes, topped with ice cream. Now if the sugar meter has gone off the charts, the traditional breakfast menu includes eggs benedict using those golden yoke eggs and cubed potatoes seasoned with Laura's special touch. Oh, and everyone's favorite from the heartland is the fluffy buttermilk biscuits smothered in rich creamy gravy with a touch of pepper and other seasonings. You don't have to be a ranch hand to eat like one.
Robert, along with Laura, came up with a special Fat Cat presentation of the well known huevos rancheros. This version of the old Mexican favorite is done deep-dish. It has all the authentic spicy Mexican aromas, covered in melted cheeses and slightly baked. Digging into it is like losing yourself in the act of eating, it is all about taste buds. There is no room for guilt, for this experience may never come again, unless of course you come back to Baja with a plan for a longer visit carrying the intention of experiencing the waffles and crepes next time.
The cute young waitress comes around again to fill the coffee cup, the cup is never to be empty. Fat Cat's attention to detail creates happy clients. Robert stresses, "I want the food to the table in 15 minutes, but sometimes we are so busy it might take a little longer. I am very happy with the wait-staff because they really do like working here and the customers can tell that right away." Robert gives his grandfather the full credit for his success in business, "Grandpa was very business minded and taught me how to develop a strong business plan. We are successful here because we cater to the Mexican nationals, so that the ups and downs of the tourist seasons do not affect us. We are already planning that Fat Cat will become a Baja franchise." I say my goodbyes, thanking him for his generosity. I am so stuffed, I feel like a fat lazy cat ready to take a snooze in the morning sunshine.
Fat Cat Pancake House
Rosarito Beach
Blvd. Benito Juárez 300 local 7, Plaza la Costa
Website
Martina's email: mteomaya(at)gmail.com