Baja Fishing Report - Winter 2022
By Tom Gatch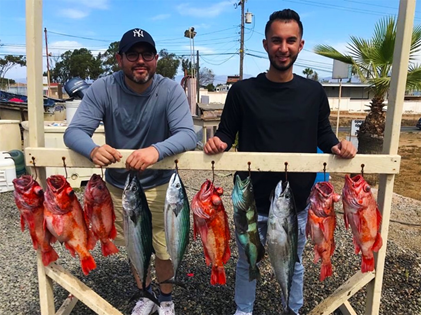 Shortly after the Winter Solstice in late December, the West Coast was slapped by an onslaught of unseasonably frigid Arctic air, which dropped coastal temperatures down into the low 40's and, in some areas, even lower. Nevertheless, there some excellent catch reports coming in from around the Baja peninsula that focus upon a wide variety of popular species.
Winter fishing in Baja can be particularly advantageous if you are the type of angler that eschews the summertime crowds and hot weather that tend to prevail during the peak fishing season between June and August.
A surprising number of fish species can be caught virtually year-round in Baja, and although it is technically Winter, the weather around the peninsula remains generally mild, except for those intermittent periods when northern storm systems intrude into this otherwise naturally placid climate.
Another advantage of traveling to Baja in the off-season is the fact that many establishments offer seasonal discounts on tourist lodgings and fishing services because of the lower demand during this time of year.
Despite the volume of rain that fell on California and northern Baja right before New Year's Day, the seasonal fishing has remained solid between the border and San Quintin, with catches of reds, lings, California sheephead, a few calico bass, and an occasional large bonito.
Yellowtail fishing has generally been slow, as the smaller school-sized fish have dissipated due to the colder water temps. Despite this fact, there is still an opportunity for diligent yellowtail hunters trolling mackerel-patterned Rapalas near rocky outcroppings to lure a fat home-guard weighing over 20 pounds to inhale the bait and end up on the deck.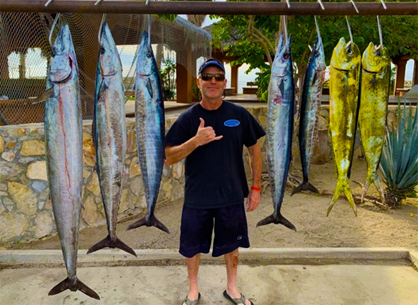 Vonny's Fleet in Punta Banda reports a consistently good bottom bite is being enjoyed by their visiting panga anglers, which has consisted mostly of reds, lingcod, and a variety of other rockfish and tasty bottom-dwellers.
It has been pretty much the same case for Castro's Fishing Place in Ejido Erendira, and San Quintin sportfishing operations, with the exception of an occasional yellowtail in the mix.
Things are rather quiet on Isla Cedros, after Cedros Outdoor Adventures concluded their 2021 sportfishing season in early November. Nonetheless, it was an exciting summer and fall with banner catches of everything from quality-grade dorado, yellowtail, and white seabass, to big halibut, monster California sheephead, and huge grouper weighing well over 100 pounds. All of which bode well for their 2022 fishing season that begins in late spring.
Further down the Pacific coast of the peninsula, anglers fishing Magdalena Bay report very good fishing for striped marlin, despite occasionally strong winds from the north. Not many wahoo are being seen offshore, but inside Bahia Magdalena's famed estero, the story is quite different.
As it turns out, the fishing inside this protected estero can actually be even more productive during the winter months than in summertime. It is presently producing excellent catches of grouper, snapper, snook, corvina, and halibut.
Down at the southern tip of Baja in Cabo San Lucas, things have been seasonally slow after the conclusion of the 2021 marlin season, however, just around the corner in San Jose del Cabo, Eric Bricston, at Gordo Banks Pangas reports that his clients have been experiencing some solid action.
Bricston reports, "As large crowds of vacationers continued to arrive in Los Cabos, we all welcomed in the New Year and were then greeted by a cold front. On Friday, we felt sporadic rain showers and stronger south winds. However, throughout this past week the highlighted fishing action was the bite going on straight out from San Jose del Cabo.
Concentrated on the grounds from 4 to 6 miles offshore. This area has been holding concentrations of baitfish, mainly mackerel and sardineta, which in turn has attracted schools of striped marlin and dorado.
Local fleets, as well scores of boats from Cabo San Lucas are all getting in on this bite, so there is definitely some heavy boat pressure. Mainly, striped marlin being hooked into, and at times have even been seen feeding on the surface. This often allowed for a few frenzied hook-ups before the fish would go down again, and bite would shut off.
Sizes ranged to 120 lb. for the marlin, a few sailfish to 80 lb. mixed in. We also found some dorado these same grounds, and also much closer to shore, that were biting best on various baitfish. Most of them averaged out between 10 and 15 pounds.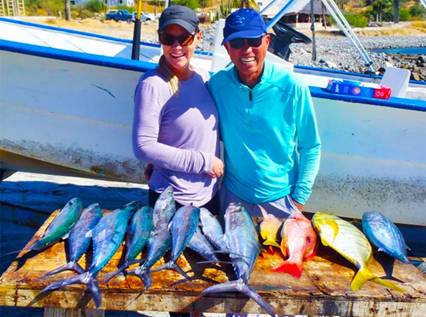 There has been no tuna action to speak of, except for some private boaters with longer range capability who have been finding some yellowfin associated with porpoise schools, though this was some 40 miles from shore. Wahoo action was very limited, but these fish are definitely still in the area, as water temperatures remained warmer than normal, in the 77 to 80 degree range.
Bricston concluded his report by saying, "The bottom action has been limited to a mix of mostly smaller species, and inshore there have been some nice sierra and small sized roosterfish being caught. And, even if you don't happen to be into fishing, you can always enjoy the addition sighting of manta rays, turtles, sea lions, and even an occasional whale."
Further up the Cortez in La Paz, Jonathan Roldan, at Tailhunter International reports, "Not much happening during the holidays. Temperatures took a dip and weather remained inconsistent with some days showing very strong winds and rough waters and not many folks out at all on the water.
We even had some strong rain come through. Because of the weather, we cancelled a few bookings and just advised folks it was better to roam around town or hang out at the pool. No sense in wasting money getting bounced around and not catching fish.
Some folks who did go out, had to come back early. With the rough waters, it was difficult to find live bait so they spent the day trolling up a few cabrilla and snapper. However, some of the commercial guys reported some stray dorado and even a few wahoo taken far outside. Some bonito and jacks also picked up as well. Overall, the fishing has been expectedly scratchy at best and our captains have had to work hard for the few fish that showed up.
Most of the fishing has been confined to inshore areas because of the strong winds and waves. Additionally, because of the winds, it's hard to get live bait since the commercial guys or even our captains can't get up close into the shallow areas where the bait hangs out.
November to April is our off-season, and there aren't as many fishermen, so the bait guys don't go out very often if they know there may likely be no one to buy them to compensate for their bait-catching efforts."
Roldan concluded his report by saying that, on the days they can get out on the water, there were still a reasonable number of fish willing to inhale a bait or artificial lure, including bonito, jacks, small snappers and pargo, plus sierra, and cabrilla.
Also out of La Paz, the Baja Ranchero Fishing Fleet has been taking clients out to fish Isla Cerralvo whenever possible, and have been lucky enough to occasionally hooked and land one of the trophy-sized pargo that are known to inhabit the submerged caves that exist around the Island.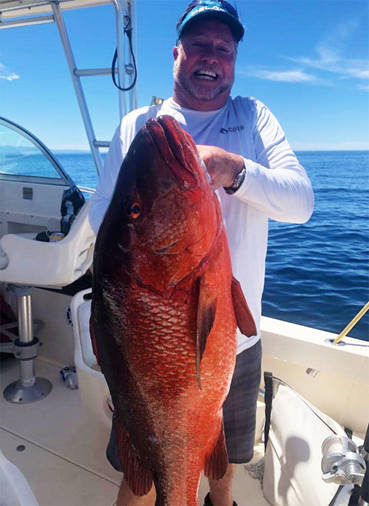 Up the coast a bit in Loreto, private boaters have been treated to some incredibly good fishing for large yellowtail weighing out between 25 and 30 pounds. Some of the best action has been focused around San Bruno, and has been the most productive for those who are fishing with bottom iron, or trolling hard baits.
These fish are basically hard-fighting home guard forktails that are capable of breaking you off at any given time, which often results in a lost fish. Even so, most of the anglers that diligently persevere have been able to return to the dock with a full 5-fish daily limit of these bruisers.
Further north, in Bahia de Los Angeles, the seasonally colder weather and water temperature in the region, anglers fishing near both the Baja and Sonora sides of the Cortez have been enjoying excellent onshore and inshore action for a variety of snappers and groupers. Although they are not abundant, tasty yellowfin snapper are often among the catches made this time of year, in a region where the leopard grouper is generally the species most commonly taken during the warmer months.
Daggett's Sport Fishing reports that although they have had to occasionally deal with northerly winds that can often make it difficult get out on these waters during the colder months of the year, they are still managing to load up the coolers of visiting anglers. Among the most prominent catches have been some quality-grade yellowtail up to 25 pounds or so, along with a selection of smaller bottom species like pinto bass.
No matter where you happen to go fishing around Baja during the winter months, now is the time to book a trip! The loads are light, and the time is right for making travel reservations getting in on the seasonal incentives discounts while enjoying the warm Baja sun.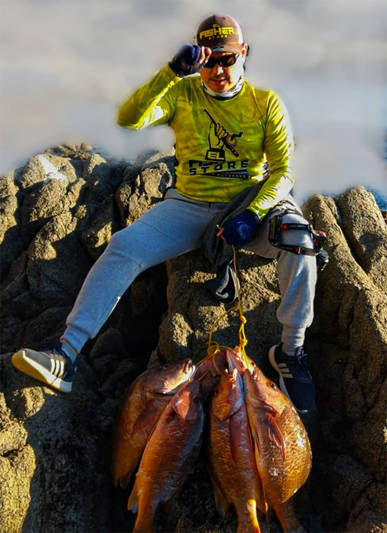 Along with those species, there were jags of bonito and scattered jack crevalle as well as snapper and cabrilla along the shorelines where there was structure such as reefs, rocks and drop offs.
Roldan concluded his report with a simple fact, "It's true, sometimes the weather alone can make all the difference."
Up the Cortez coast near Mulegé, anglers fishing out of San Bruno have had to deal with northerly winds that have kept them off the water. One recent group visited the region for 11 days, but were only able to fish for 2 of those days because of the gusty weather.
Nonetheless, they went out on the few days that they were given and scored well on a variety of cabrillas and quality grouper. The same held true further north at the Midriff Islands off of Bahía de los Ángeles, the only exception was the added possibility of getting a shot at catching a fat yellowtail.
Winter is a perfect time to visit Baja California. There is plenty of sunshine, and the occasional winds and rain give way to sprouting green meadows and festively colored wildflowers that generally disappear during the dryer, warmer months.
The good news is that no matter what time of year you plan to visit Baja, there will always be plenty of fish waiting for you.