Baja Bound Surf Series - 2019/20
The fifth season of the Baja Bound Surf Series is about to get under way! This year, the contest series will include The Wildcoast Dempsey Holder in Imperial Beach, The Walter Caloca Surf Open at San Miguel and the Baja Surf Club Invitational at San Miguel.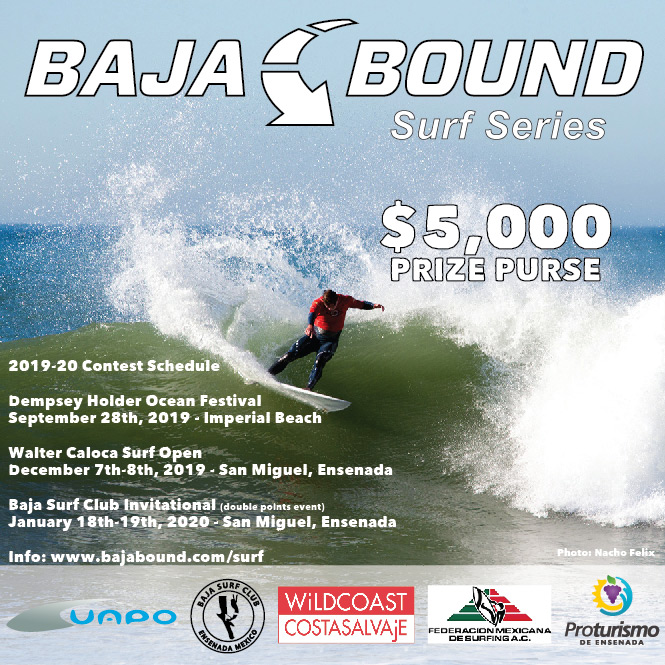 The series will be organized by UAPO (United Athletes of the Pacific Ocean), WiLDCOAST, Baja Surf Club and Baja Bound Insurance, with the goal of promoting youth surfing, cultural exchange and environmental issues shared by the US and Mexico. "Surfing in Mexico started in the sixties because of surfers traveling the coast searching for waves" says UAPO President Alfredo Ramirez. "It didn't matter if they were in Alta California or Baja California - friendships were created, surf clubs were born, and it produced a community beyond borders. This new surf series is a testament to the idea of one ocean, one passion."
Baja Bound Insurance will be putting up a prize purse of $5,000 that will be awarded to the top three open men's and open women's points leaders at the final contest. The surf series will kick off with the Wildcoast Dempsey Holder Ocean Festival in Imperial Beach, California. Registration is available online at http://wildcoast.org
More infomation about the series organizers:
United Athletes of the Pacific Ocean (UAPO) is a not-for-profit organization with the mission to promote youth surfing in both California's through surf competition, cultural exchange and education. Uapo means 'Bridge' in Hawaiian. www.uaposurf.com
WILDCOAST is an international conservation team that conserves coastal and marine ecosystems and wildlife. www.wildcoast.net
Baja Bound is a San Diego based company that has been in the business of selling Mexican auto insurance online for 25 years. www.bajabound.com
Here are some highlight videos from the Baja Surf Club Invitational at San Miguel and the Walter Caloca Surf Open at San Miguel: