Destination Splash!
By Martina
A winter high tide pounds against black volcanic rock and is accompanied by a deep boom as the surge pushes air and water skyward in a 30-foot plume of sea water. I've come to Splash knowing there would be this spectacular display of nature's force. I also come for one of the best omelets on the northern Baja coast. It's early and I pick a patch of sunlight to drink my coffee and wait for just the right photo op, which isn't all that easy as I am not a photographer. I only hope to catch the essence of the special moment in word form. Another reverberating boom! I've missed the shot, but not the excitement as I am covered with fine cold spray. Screeching California gulls fly over in a swirling mass and a rainbow lights up inside the fine mist hanging in the air.
Splash is more than a location, it is an experience. Some are calling it the "Cheers" of the northern coast where you can go and everyone knows your name. Locals from all over venture through here and travelers who have found it will return every time they cross into Baja. Why? Well, it is more than the amazing view, the good breakfast, the sea food fare and music in the evenings, all very easy on the pocket book. It is something called "onda" in Spanish. That translates loosely as the feel and energy of the place.
Years ago the building was nothing more than a broken down fishing camp littered with trash. But one man had a vision, he sold his family on that vision and from that vision sprang one of the most locally popular eateries between Rosarito and Ensenada. People in the know will bypass the more touristy areas of Puerto Nuevo and La Fonda to come and be served extraordinary lobster. Fish tacos are served with warm handmade tortillas, and the shrimp are succulent both in cocktail or buttery sautéed with garlic. Wait, there is something more. And the way that Agapo, the chef, explains it, it is his passion for creating good food and making people happy. He admits that when he is thinking of hiring a new waiter or waitress, he asks them why they have come for a job there. There must be more than a pay check involved, they need to actually love the kind of work, and care about the people who come.
I push my pen and paper aside as my omelet is served with a basket of homemade flour tortillas. It is nearly leaping off the plate so stuffed full of warm cheese, avocado, poblano chili peppers and sautéed onions. The hidden ingredient is what is not on the menu, it is that "onda" from the chef and the servers. Not to sound too romantic, I'd say my omelet is full of love. Another huge set of waves moves in and smash against the rocks. This time one wave comes up high enough to hit the windows where Agapo stands with his cup of coffee looking out from the world that he and his family created. He shares his past and his passion and would never take all the credit for the success. With success came the expansion of the restaurant and bar where his younger brother Nicolas bartends and could be the Sam Malone Mexican style, tall, handsome with a ready smile. The business thrives because of its family commitment to creating a total experience that happens to include very good food.
I finish up everything and even eat the orange slice as the high tide begins to pull back and low tide begins. A quiet replaces the fierce sounds of crashing surf as the water churns in undefined movement between high and low tide. It is time to reflect on how to gather all the words together in order to write something as delicious to read as Agapo's omelet was to eat.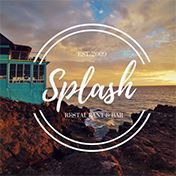 Splash Restaurant
Specialty - Fresh Seafood
Km 52 Rosarito-Ensenada free road
Heading south on the Mexico 1 scenic toll road, take the Cuenca Lechera exit
Website
Martina's email: mteomaya(at)gmail.com